Peter Drucker says: what can not be measured can not be managed. Then it can not be improved.
This means that in an SEO project, the organic growth in Google searches can only be guaranteed by improving what is being done.
Especially as optimization work does not give immediate answers. Need for a strategic approach in the medium term rather than the short term.
That is, the first thing you need to do is to create a historical database.
1. Main methods and tools to measure results for SEO
A Digital Analysis provides for the measurement of results that will be organized and studied, to improve the online experience, in order to achieve the goals and outcomes desired by customers.
There are several tools that can be used to extract important data to mensurarmos the optimization of your website .
Let's see the top 5:
Google Analytics
It is certainly the best known and popular.
Mainly because it's Google, but also because it is a free platform that integrated into your website, you can extract numerous reports, both of visits to your site, such as user interaction with him during the entire user journey until it becomes your lead (contact).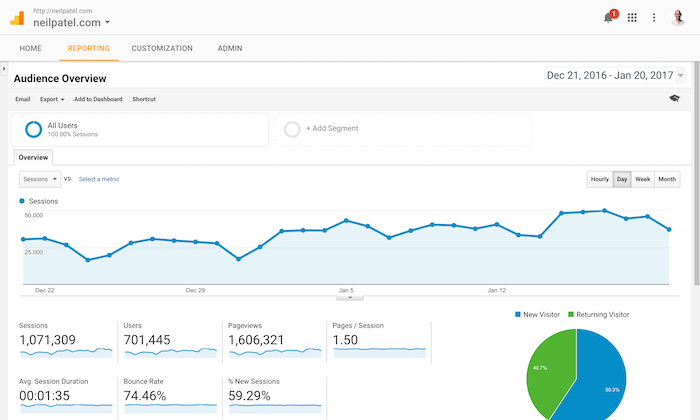 ---
See also ⇒ SERP – How to Analyze the positioning of your website
---
Google Search Console (former Webmaster Tools) and structural analysis tools
Also Google, the GSC allows for a more technical analysis bit of site settings and your schedule and the impact it has on technical SEO .
We can say that Google Analytics mainly shows the interaction of the site with the user and Google Search Console interaction with the search engine.
Like Google Analytics, Google Webmaster Tools also need to be integrated with your website.
---
Want to know more about Google Search Console? – Read these articles.
You know the Google Search Console? Ask questions!
You know how to use Google Webmaster Tools features? Start now!
What are the Key Features of Google Search Console?
---
Google Analytics and Google Webmaster bring us beautiful are indicative and free tools! Both are excellent tools to understand the internal and external data site.
Some examples of relevant suggestions that Google Webmaster Tools shows (such as site internal data) are possible improvements of Meta tags, error notes 404, indexing or not indexing pages, etc.
In this tool you can also structure the content of your website according to Schema.org encoding. So will help search engines understand the content is more about a product, a post, etc.
---
You want to integrate your site with Google Webmaster Tools and Google Analytics? Please contact one of our consultants .
---
Moz.com
The Moz is already a paid platform but has some free functions, such as analysis of the SERP of each page of your website.
He is known to have disclosed the concept of page authority and domain authority on the web .
For example, entering the page "meusite.com.br/pagina" in Moz , the platform will tell which is the authority of the page and the domain "meusite.com.br" as a whole.
The Moz tool assists in the analysis of internal data (programming, tags, errors, etc.) and external (access, ranking, etc.) of the site, offering suggestions for improvement and verifying that all optimization points are up to date. In addition to these data that we track weekly when we are implementing an SEO project , it also passes us a competitive analysis , complementing the Google Search Console provides.
To start using the Moz tool, you can access the website: moz.com or simply install the free extension for Chrome MozBar .
Using the extension, you will have an analytical summary of the sites already on the Google Search page
In the image:
THE means: Domain Authority and is the domain authority (eg meusite.com in our example above)
PA means: Page Authority and in our example, would be the authority of meusite.com.br/pagina page
The paid version clearly offers many more features and requires a minimum investment of US $ 99 / month .
---
See also ⇒ The Importance of SEO for your Business
---
SEMRush
It is one of the tools most used in NoTopo.com.
It also has a free version, but it is quite limited. The paid version also needs an investment of US $ 99 / month .
In SEMRush you can analyze your competition and see how it behaves for each keyword (SERP it), as in the example here below.
Here you can search volume estimates and level of competition to choose the keywords that interest you .
The most important is that you can analyze the trend of your SEO project , ie for how many words your site ranqueia, what position he appears for each keyword, and that traffic volume.
In fact, with SEMRush can do much more than that, how to evaluate the performance of AdWords campaigns and on social networks , but these features are not focus of this article.
---
Want to do a free analysis of the positioning of your website and your online business? Please contact our consultants .
Remember that the analysis of search volume keywords is also done by platforms such as the Google Keyword Planner .
---
If you want to learn more about how to search for keywords for your optimization project, read this article: How to choose keywords to pump your internet business!
---
All of these tools on the market are well used when we know / understand what we have to look and what data we extract. So we always warn our customers and readers that first of all is to be established objectives and, from that, the same will be worked out in the best possible way to be achieved.
To work performance, we need to be as objective as possible and that means that the goal must be SMART . Otherwise, the perception of the result of a Digital Strategy is purely subjective.
The NoTopo offers expertise in data analysis services that help businesses to obtain relevant reports to business growth by improving the positioning strategies and selling online.
---
You know the difference between Tactics or Digital Marketing Strategy?
---
2. What measure each goal?
This depends on the place of the funnel where the audience you want to reach.
You must define the answer to this question, and before starting the project, to avoid frustration get to that situation:
'I did not sell anything Facebook but then it did not work'
To set your achievable goal, you need to understand to what your ideal customer journey stage you are drawing your strategy.
Google Analytics provides an overview of the site and his performance before users.
Key metrics to be evaluated on a website optimization project are:
access channel;
Number of sessions;
Staying on the site;
Number of unique users;
Number of new users;
Pages per visit;
SERP by keyword.
3. When a given SEO can be considered good?
Both in SEO as in life, it's just something more or less good compared to anything else.
In our case it would be ideal to have a data history to clearly see if we are improving our Performance Indicators (KPI).
If we have no history, our references can be our competitors. To make this comparison, we need an analysis of competition .
Usually we use the word bechmark (reference) and concurrent interchangeably. Actually a benchmark is a reference and could be a another segment of business or another country, not necessarily your direct competitor. However, most often used as references competitors, and this leads us to superimpose the two concepts.
See video what exactly is a KPI
---
To learn more read this article ⇒ What is Benchmarking and how to do?
---
The competitor analysis can be done on SEMRush or Moz to see how each competitor ranqueia compared to your website.
At the same time you can evaluate what are the closest competitors to your site, on the basis of keywords for which your site ranqueia.
If SEMRush show in the report of competition websites that have nothing to do with your brand, like YouTube , Facebook , Wikipedia and others, it means that you are not ranqueando for relevant keywords for your segment.
4. What are the strategies that generate more results in SEO?
The definition of an assertive strategy depends on the pre-set SMART goal.
Simply put we can suggest the following strategic approaches:
AdWords and media buying if your target audience is at the bottom of the funnel;
Boosting social networks (Facebook, Instagram, LinkedIn) to reach those who might be interested in your product, but is not in micro-moment of purchase;
Brand positioning work to reach the largest number of people potentially interested in what you offer.
See what exactly is the purchase micro-moment in mini video below:
---
Want to know more about the brand positioning methodology NoTopo? – Please contact our consultants.
---
5. Have a greater control of their digital marketing budget
Rather than think, the success of a campaign is not necessarily linked to how much you invest in it.
If you are starting out and have a limited budget, all you need to do is focus on one channel only, that you think more valid to achieve your goal.
Test it for 3 months and then see if it is worth getting optimizing the same or change the channel.
In our case we consider a strategic realignment every three months because everything changes so fast in the digital world then re-alignments are necessary. We can say that our target is moving over the months because changes our user behavior or, sometimes, the same user.
---
See also ⇒ The importance of measuring results for SEO
---
It is not good to try to split a very low budget for more channels. The result will be a lack of focus, shooting various places, and also so, most likely, you'll do a bit of everything without doing anything well.
Again, focus on one channel only.
Conclusion
We have seen in this article what are the most useful and popular tools for assessing the positioning of your website on the Internet to set a SMART goal and Performance Indicators to track the performance of its strategy.
If you want to use other platforms to measure your results, no problem.
What counts is that you Install analytical reporting tool on your website to measure the performance of its strategy.
If you need help to set platform and analysis process, or even to define the best strategy for growing your business on the Internet, contact the NoTopo.com
If you have some comments about this article or want to share your experience, feel free to leave a comment here below.