When you consider disabling comments on WordPress, know you have many things you should take into consideration. And one of them is how your content interacts with visitors.
WordPress gives the option to comment on pages and publications, and this is a great way to keep your live site, which allows visitanta interact with your website or blog. But like everything in life, disable comments or use has its pros and cons.
By default, new publications WordPress can get feedback from any visitor. Despite these comments and interaction being one of the SEO factors of a page, they are not always provided with good intentions. Also thinking about the concept of ZMOT ( Zero Moment of True ), the comments are a means to get feedback from potential customers when they search and inform about the products and services that will consume.
If your posts or pages are bombarded with random comments that are unrelated to the subject matter or spam, it will hurt your ranking.
And that's why you need to know how to disable comments WordPress . Here are the two most popular ways to disable WordPress comments that we will cover in this article:
Via Panel: Setting the default settings of the article located in the WordPress dashboard;

Via Plugin: Configuring a plugin for more options and control of

WordPress comments

.
How to disable comments WordPress via Control Panel
The process of disabling comment WordPress is pretty simple on the panel, follow these steps:
Visit the WordPress Dashboard and navigate to the

Settings> Discussion.
Uncheck the box Allow people to post comments on new articles.
Save the changes and, from now on , the option to add WordPress comments

will not be shown to users.
However, this action is to NOT disable comments WordPress existing articles. To do this, disable comments from old posts, you need to follow the steps below:
Go to the

Posts> All Posts.

Select all entries to edit them in bulk. Ie change to option

Edit, select all the options by clicking title and click Apply .
A new screen will appear. The drop – down menu as shown below print, go to the tab Comments and select the option Do not allow.

Then click

Refresh

.

There, the option to add comments to existing posts is disabled.
But there is one more thing to do! So far you have disabled comments of new posts and disabled the option of comments on posts that were already in the air. Keep in mind that WordPress comments that have been previously approved remained visible. To remove existing comments, follow the steps below:
Go back to the section

comment

to your WordPress dashboard.

Select the comments you want to remove

.

Select the options

Reject

or

Move to Trash from the dropdown menu.
Ready! Now you know how to disable comments WordPress on new posts and existing posts, as well as delete existing comments.
How to disable comments WordPress via Plugins
Install plugins in your WordPress site is a way to acquire more power and extend the functionality of your site, as with plugins you will be able to manage it much more efficiently. If the above methods of how to disable comments WordPress seem difficult or were not enough for you, simplify it with plugins help.
Now look at the three most famous plugins for WordPress comments solve this problem, see its main features and what these plugins can do for your site.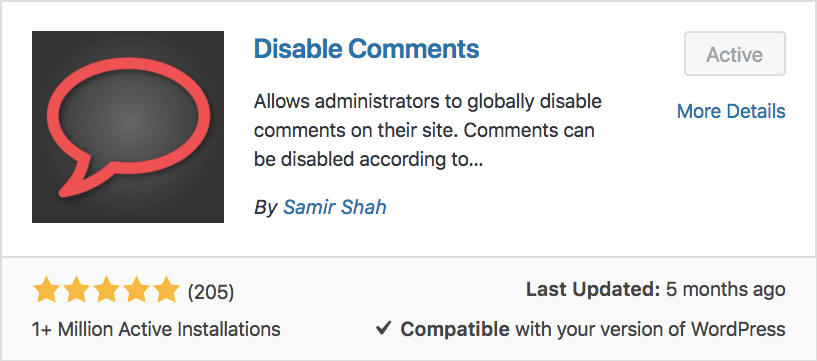 Main features:
Disable WordPress comments from your entire site;

Disable comments WordPress specific areas such as posts, pages or media.
Disable Comments For Any Post Types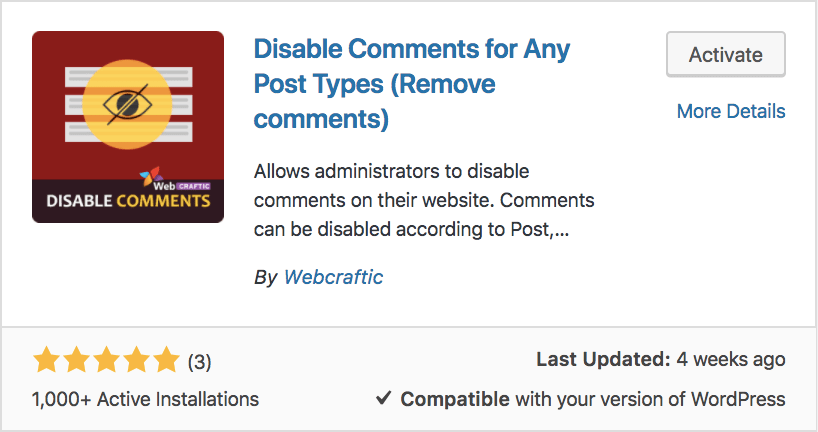 Main features:
Disable comments throughout your WordPress site;

Disable comments in selected areas like pages, posts and media;

Remove external links from existing comments and some tools focusing on SEO.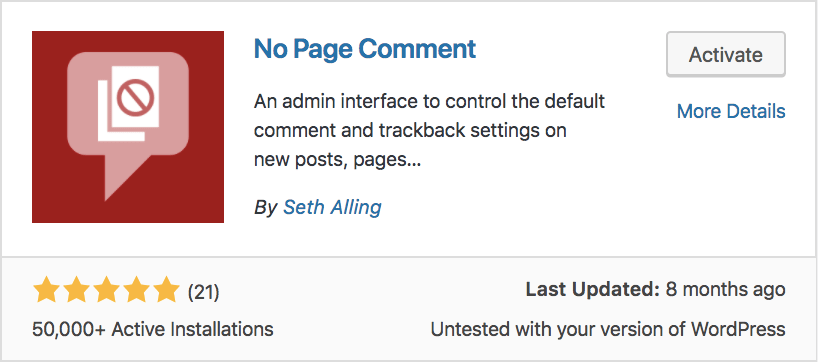 Main features:
Disable comments on new posts, pages and media.

Modify comments on existing elements of your website.
Pros and cons of disable WordPress comments
Now that you know how to disable comments on WordPress, let's check out some ADVANTAGES this:
Best use of your time: Instead of moderating the comments, you will have more time to focus on other aspects.

Help prevent

spam:

Some comments have the sole intention of making improper advertising or

spam

.

It keeps everything in order: long and unnecessary discussions on your pages may not seem attractive depending on the purpose of your business.

Your page can be faster: Some elements unless mean that your page will load faster and help in ranking the most famous search engines like Google .
But as you already know, every coin has two sides, and disable WordPress Comments can also bring some DISADVANTAGES for your site:
Reduce user interaction: By allowing comments, you give the chance the user to interact with your content and express their opinion, and this interaction lets you know exactly what your audience needs and search on your site.

This may affect the page SEO: While it is an unconfirmed factor, comments relating to your business can help improve your digital relationship and, through comments, you can find opportunities to guestposts and backlinks , which are two confirmed factors for your ranking.

Decreases feedback and opportunities: Have you noticed how the most popular posts on social networks attract more comments? Perhaps the comments are a door to more opportunities or even receive ideas and have insights to the comments!
Conclusion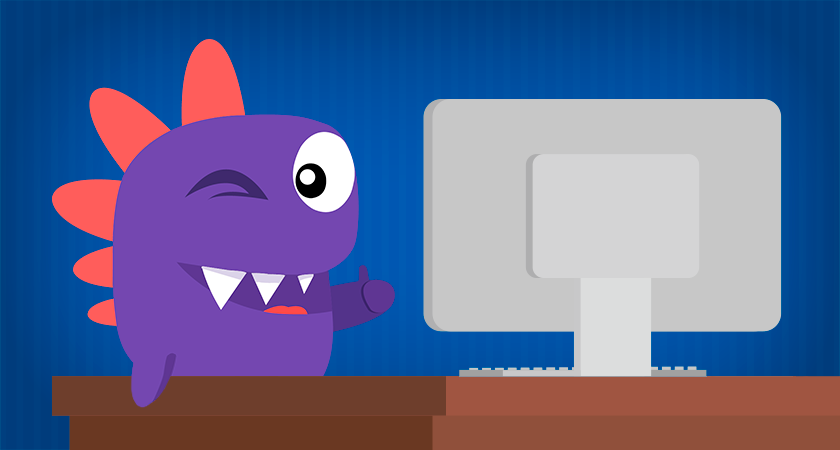 In this tutorial, you learned how to disable comments WordPress using panel tools and also through plugins. Upon completion of this tutorial so far, you have some ways to control the content of your site simple and even helps to prevent spam .
And you have something to add on this? So please, let your participation in the comments below!