A question that regularly receive from our customers is "Which version of WordPress you have?". This is because knowing what version of WordPress is essential when you want to keep your site WordPress protected and updated or when you need to install new themes and plugins .
And there are those who want to know simply have the latest version installed WordPress. Anyway, find out which version of WordPress you use on your site can be simple. In this tutorial we will show you three ways to check which version of WordPress you use in your project.
Before we begin, here's a recommendation : Always try to update WordPress to the latest version available. This not only opens up opportunities to install new themes and / or plugins, but also ensures that the security of your WordPress site is the latest standard. To learn how to upgrade WordPress, check out this tutorial . Also, WordPress try to purposely hide the version information because they can be used as loopholes for cyber attacks. So if you can not find the latest version WordPress easily, this may be one of the reasons ..
So with this option out of the way, let's start by checking which version you have installed WordPress.
What will you need
Before starting this tutorial, you will need:
Option 1 – How to know the WordPress version via Admin Area
The first and most convenient method to check its latest WordPress version is through the admin control panel. Simply log in to your WordPress control panel and go to the section Home or Updates , located on the left sidebar ( this may vary depending on the version already installed).
With this, you can clearly see what your WordPress version and also the last existing WordPress version. If you discover you do not have the latest version, do not forget to perform backup of your site before you change or upgrade to the latest released version.

In addition to the page Updates , you can also find out which version of WordPress down in any administrator's area of the page until you reach the footer .
You should be able to see the text Thank you for creating with WordPress and in front of this sentence will find the current version of WordPress. Note that information is available only for WordPress sites in versions 4.1.5 onwards. This view is also not available for mobile devices to date.

Option 2 – Checking the WordPress version by Page Source
You may be unable to login to the WordPress admin panel or do not have the necessary credentials to do this. This means you will not be able to find out what version of WordPress using the Option 1. But do not worry – there is another method, although less reliable.
Generally, developed creating WordPress sites load the version information in an HTML meta tag. This tag is inserted by default in WordPress site theme but can be disabled by the site administrator, who is aware about safety. Anyway worth trying to check if you do not have access to the admin panel.
To find out the version of WordPress through the meta tag, just open the site in your browser. Now click with the right-click anywhere on the site and choose and select the " View Source Code page . A new column will open in your browser, containing the page's HTML code.
Now press CTRL + F or COMMAND + F if using Mac. With this, it will open a research tool in your browser. Type " generator " in the search field and see if there are any results for this search. If the site administrator has not disabled the meta tag generator, you will see a tag like this:
<Script type = 'text / javascript' src = 'http: //hostinger-tutorials.com/wp-includes/js/jquery/jquery.js'> </ script>
<Script type = 'text / javascript' src = 'http: //hostinger-tutorials.com/wp-includes/js/jquery/jquery-migrate.min.js'> </ script>
<Link rel = 'https: //api.w.org/' href = 'http: //hostinger-tutorials.com/wp-json/' />
<Link rel = "EditURI" type = "application / rsd + xml" title = "RSD" href = "http://hostinger-tutorials.com/xmlrpc.php?rsd" />
<Link rel = "wlwmanifest" type = "application / wlwmanifest + xml" href = "http://hostinger-tutorials.com/wp-includes/wlwmanifest.xml" /> 
<Meta name = "generator" content = "WordPress 4.8" />
<script type =

'text / javascript'

src =

'http://hostinger-tutorials.com/wp-includes/js/jquery/jquery.js'

> </ script>

<script type =

'text / javascript'

src =

'http://hostinger-tutorials.com/wp-includes/js/jquery/jquery-migrate.min.js'

> </ script>

<link rel =

'https://api.w.org/'

href =

'http://hostinger-tutorials.com/wp-json/'

/>

<link rel =

"EditURI"

type =

"application / rsd + xml"

title =

"RSD"

href =

"http://hostinger-tutorials.com/xmlrpc.php?rsd"

/>

<link rel =

"wlwmanifest"

type =

"application / wlwmanifest + xml"

href =

"http://hostinger-tutorials.com/wp-includes/wlwmanifest.xml"

/>

<meta name =

"generator"

content =

"WordPress 4.8"

/>
<Script type = 'text / javascript' src = 'http: //hostinger-tutorials.com/wp-includes/js/jquery/jquery.js'> </ script>
<Script type = 'text / javascript' src = 'http: //hostinger-tutorials.com/wp-includes/js/jquery/jquery-migrate.min.js'> </ script>
<Link rel = 'https: //api.w.org/' href = 'http: //hostinger-tutorials.com/wp-json/' />
<Link rel = "EditURI" type = "application / rsd + xml" title = "RSD" href = "http://hostinger-tutorials.com/xmlrpc.php?rsd" />
<Link rel = "wlwmanifest" type = "application / wlwmanifest + xml" href = "http://hostinger-tutorials.com/wp-includes/wlwmanifest.xml" /> 
<Meta name = "generator" content = "WordPress 4.8" />
As we talked about earlier, which display your version of WordPress can be a serious security error. If you are searching on your own website, you should immediately disable this tag so that it is no longer displayed.
If you can not see the tag, it means that the theme you are using already hide this information, which is a good practice when it comes to keeping your site safe.
You can follow the steps below to disable the meta tag generator , preventing it from being displayed in the source code of your page.
Access your Control Panel WordPress.

Navigate to the

Appearance

->

Editor.

Select your current theme and choose the file

functions.php

for editing.

Paste the following code at the bottom of the file:
remove_action ( 'wp_head' 'wp_generator');

Save changes by clicking on

Update File

.
Case 3 – Checking the WordPress version on file version.php
An alternative addition to the two methods already discussed above involves deeper into your WordPress site files. This is the most reliable method, but requires more time. First, you need to connect to your hosting account using the file manager of your hosting provider or by using the FTP client.
Once connected, navigate to your WordPress installation directory (usually public_html ) and open the folder wp-includes. Here, search and open a file named version.php. This file should contain the installation version of your WordPress on line 7, which should look like this:
$ Wp_version = '4.4.2';

This file, which contains the version of WordPress, looks like this in Hostinger the File Manager:

You might be wondering if this file is safe or not. After all, if it is located in the same place all other WordPress distributions, hackers could not just go the same way in the browser and display the information? As well as information about the WP version are in a variable and are not part of the HTML page, nothing is displayed when the page is accessed by a web browser or when the source code of the page is displayed.
Conclusion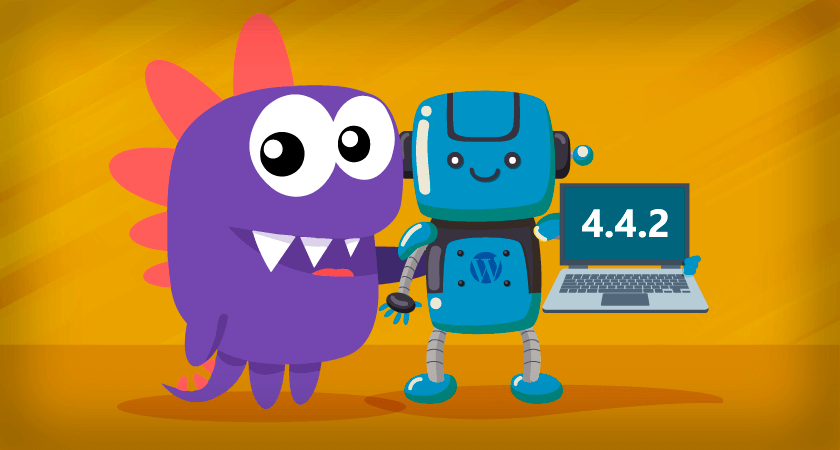 Check your WordPress version can be important if you are planning to perform an upgrade to the latest version or to install a theme or plugin that works only on specific versions of WordPress.
In this tutorial, we present three methods to find out the WordPress version currently installed on your site. If you want to protect the information from the WordPress version of your website, we recommend that you check out this tutorial on how to increase security in WordPress and use plugins like Sucuri and Wordfence .
Our expectation is to have helped you with this tutorial. See other articles WordPress and good development.