Have you ever wondered what is the source of website traffic that generates more results? Someone accesses your site and certainly this user came from somewhere ..
In this infinite universe of the Internet there are many possibilities!
Who never had doubts about the origin of the site itself traffic?
As it is very common for customers to ask and have questions about traffic sources. I decided to talk a little about the subject.
Come on .. First let's learn a little more …
Who are? Where it comes from? What are you looking for?
To wait until Friday? … No! You can rest assured that we explain you all !!
The first step
First of all, you need to have the TAG Analytics on your site so that it can monitor all this information.
From the time when the tag is installed, Analytics will start capturing your site's data.
VIDEO
And do not forget to set up conversion goals or transaction in the case of e-commerce, with them you can monitor the performance of the traffic sources for CONVERSION .
That is in addition to know the sources that lead more traffic to your site, you can view those that generate more leads, sales, leads, etc.
Yeah, now you'll have to wait some time to get more data about the site and be able to analyze them.
Logical that some insight can already be observed even further without much history.
Can you already know a little more about the users who are accessing your site, which pages are being accessed more if the bounce rate is good, the time spent on the site, etc.
And several other things that already will help you better understand how people view your site.
What are the sources of traffic?
Traffic sources are the origins of where the users come to your site.
From the traffic sources of reports you can discover information about the audience of your site and where that audience is.
The analysis of these data are very important because they say a lot about your customer and efficient dissemination of your service / product.
Knowing the main sources of traffic
Organic traffic
Organic traffic is all traffic that has originated from search engines without use of sponsored links.
In other words, the results obtained by your site on Google and other search engines without the need for investment in ads.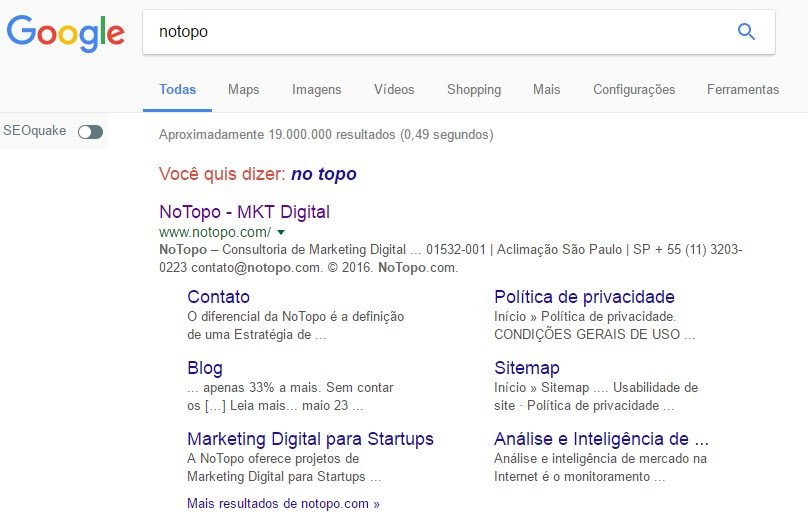 A good organic positioning is obtained from SEO work – Site Optimization to improve rankeamento on Google. Which includes several actions On-page and Off-page .
What makes the time-consuming process to generate results, especially when it comes to niche or competitive markets, with sites that are already well on the relevant subject or major portals.
Not yet know the SEO work of NoTopo? Learn more about Website Optimization !
through traffic

In direct traffic visitors type the address of your site directly into the address bar.
Or already have saved your address and complete own browser the link to your site.
As this audience is composed in majority by people who have visited your site, they are likely to come to your site to check what are the latest updates and news.
Or returning a second survey ever knowing of the existence of your website.
Therefore, optimized and simple urls are critical to your users return to your website directly.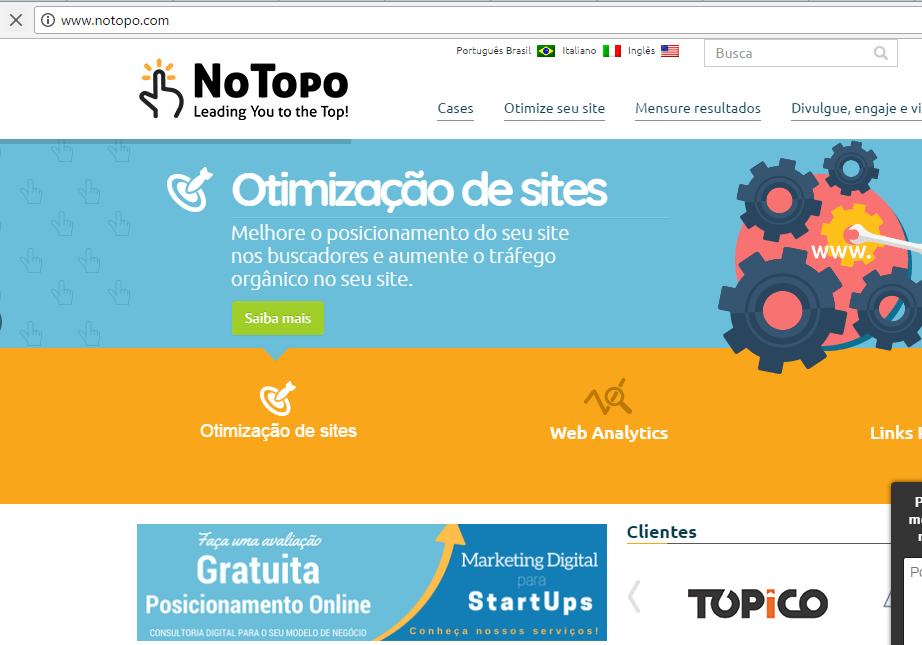 Paid traffic
Paid traffic is through ads served on Google, other search engines, social media ads, news portals, ie all that is spreading paid, no matter much formats.
They are called sponsored links , banner ads, Facebook ads, video ad, are very short formats and the most publicized are made made through Google AdWords.
The company invests a sum in the ads that are triggered from keywords participating in a virtual auction with other companies in the same segment looking for a position in the first pages of search results.
Here 's how to increase traffic to your site with Google AdWords !
The important thing is to pay attention to the characteristics of each traffic, for example:
Paid traffic there while the company pay for it. When resources are removed, the visits and all the other results will also be.
Paid traffic has a faster return and ROI probably much better than the other short-term trades.
traffic Reference
Referral traffic consists of any web sites that drive traffic to your website through banner ads or links published on blogs and partners, comments, statements, etc.
For example, if a site you trust is saying something and cites a link, you will confer with a different look, knowing that the advice comes from a reference.
When you get the reference through a link in the content, or through a post as a guest to another site ..
Cases where you already know what you find in your blog, there is a much greater interest in knowing what you have to say.
In addition, you gain the credibility of who referred you.
For these cases, it is likely to read a bit to see if you are interesting and then sign your blog or to enroll in the newsletter, curtam on Facebook, etc.
The big point here is to show that in fact you offer good content on the subject in which you were referred.
Social traffic
The main point here is that either people want to be social with your friends or want to be entertained.
They are visitors who come to your site through social media .
Captivate them may lead to a clientele that will become important for the dissemination and defense of its brand.
I inserted this review because I find most relevant.
Are those networks that people usually feel more at ease to offer feedback through comments, and create an emotional bond with the brand.
Social media also has a great ability to viralized content.
E-mail traffic marketing
Email Marketing is an advertising option online profitable and economical.
The email marketing campaigns can generate traffic to the website of your company, increase the number of sales / leads and further strengthen the relationship with its customers.
However, although effective, they are also very risky because a poorly managed campaign can cause customers to create negative brand images.
To achieve their goal, they should be rich product images, be very direct and with a call to action simple and clear.
Watch this video to better understand about what's Call To Action:
Traffic Sources x Behavior
Users of each traffic source often have different behaviors.
The organic traffic and direct traffic often have high consumption of content – ie, a higher average time spent on page and an average high of pages per session.
This is because the user plays an active role in the search for what your site offers.
However, when the user accesses your site for organic traffic it is generally looking for answers to particular subject or more information.
And in the direct traffic you have accessed your site previously, it may have had a good experience or is behind the information / services you offer.
For he knows that for that matter x, you have expertise.
Already paid traffic usually has different behaviors, it is possible to set different goals for each type of campaign.

For example, branding campaigns (made by inserting banner ads on partner sites) is indicated to increase brand awareness and access to the site, campaigns focusing on conversion, sales campaigns like Google Shopping, among others.
And in the case of referral traffic and social traffic from the relevance that you get on certain matters and is quoted or perform a specific job, you can create a super favorable scenario for your brand / company.
Traffic is stimulated from posts and ads with links to your site, generating traffic between the two platforms.
Not only for social media, but mostly, which are usually accessed via mobile, it is important to ensure that your website is properly optimized to get visitors who access through these means.
Assistance: The path of conversion
Many people do not give importance to the Assisted Conversions and then repents.
To better understand, let's think of an example:
Are you looking for a grant to buy and looking on Google "black leather bag" opens a website x paid by results and y by the organic search results, look at them and decide think.
After accessing the site returns x directly by typing the link in the browser and BUY!
Analytics on the website you bought, will be computed a sale to direct traffic. Great! End there?
So, I can reduce my investment in paid traffic and leave only the right care for the sales! Cool huh? No!
The assisted conversion shows you the traffic that participated in the conversion.
We will resume ..
The user of our example accessed the site by x:
PAID TRAFFIC> TRAFFIC DIRECT
The conversion was computed to direct traffic but without the paid traffic you might not get to know your store!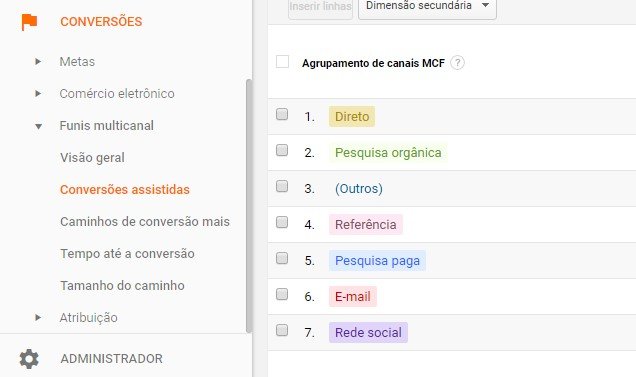 That is, this functionality is nothing more than a way for you to note the importance of traffic, in addition to final conversion. But understanding the whole process.
So before taking the investment or the work of a channel, identify whether it is important in the purchase flow / service of your website.
Traffic Qualification
This is one of the questions that appear more, especially when a company wants to qualify incoming leads. And then comes the crux of the matter:
I can have control over users of all traffic coming to my site?
First, it is important to understand that you can not have the track all traffic sources.
On paid sources you have many targeting options that help narrow down the audience that will see your ad.
Generating traffic and potential leads to the most suitable options you have selected.
You can work with remarketing and only reach people who have visited your website, segment by region, demographics, specific channels, specific terms, etc.
Other sources you can not have a control over who is accessing because vary according to research other ways that a person can meet your company and other sites that may quote your site.
All these optimizations also work together.
For if the right audience is being impacted by your paid ad and begins to recognize your brand, surely it can access your site directly.
The website optimization work will influence the organic traffic, as you select the right keywords for your site and help you to improve your rankeamento in search results.
You can see that the more complete their work, they are still more likely to get more results!
And you want to better understand how this whole study of the sources of traffic and bring more results for your company?
Take a free trial in Notopo !