Everyone wants to be organically at the top of Google searches.
Do you know any techniques of SEO ? Or you think it's just optimizing your website and insert relevant keywords in the content of your site to Google to recognize the relevance of your site and put it in first place of the first page of search? An SEO Project On Page goes far beyond that!
In fact, there are more factors that influence search results and its organic positioning .
But first, you know the difference between organic positioning and positioning sponsored link ?
If you have questions, watch this video I recorded for NoTopo YouTube channel where I explain this difference:
The factors you need to consider to to rank in Google go through codes, tags and data settings structured in tool as Google Search Console .
It is important to differentiate between two macro categories of SEO : On Page and Off Page .
See this mini video which is the difference between SEO on page and off page SEO
A project SEO On Page works the optimization of the site itself, since the code to the keywords, internal links.
A project SEO Off Page works the links from other sites to your site. What otherwise is also called Link Building .
It is important to remember that Google will recognize a new page only from a link to it.
In this article we will go further in SEO On Page , geared towards optimizing your website.
We like to share an optimization work SEO On Page in two phases: hygienic and aesthetic.
Hygiene of an SEO Project On Page
Phase hygienic an optimization work includes a list of tasks behind the scenes, the results do not give notice at first glance. But that are fundamental. Let's say this is the stage to please the search engines .
Here we include all the technical settings as commands noindex, nofollow, disallow, redirecting and settings structured data .
See video what exactly does nofollow , noindex and disallow :
If you've got a job producing content to rank in Google without considering these tasks boring, you are losing many opportunities.
We estimate that the share hygienic of SEO take between 15 days and two months depending on the following factors:
Hygiene of a new Site and Domain
In this case your site has no history, you start from scratch, so no need to pack anything from the past.
This stage ends up being much faster and can take only 15 days.
However it is worth remembering that your website, in this case, it will take longer to appear because the Google (or another search engine), you will need a time to recognize the pages of your website ( to rank ) and let them appear in searches.
We estimate between 1 and 2 months for your site to start appearing in searches.
Hygiene an Old Site
In this case, if you have never made a SEO work , it will probably take some time to fix the errors already present on your site.
To do this, in addition to the configuration itself, you need all the possible access to your administration panel of WordPress or CMS you are using, access to the server , access to the account Google Analytics, Google Webmaster Tools (if you already It has one).
To understand more what is WordPress and CMS, watch this mini pill NoTopo YouTube channel :
Incredible as it may seem, in our experience, the most difficult part of this phase is not much in the settings, but getting these hits.
That's because many customers end up losing access to Control Panel / Administrative site or these are with the programmer who designed the site. Often the customer does not even know that such access existed.
So do not underestimate this hygienic phase of SEO
Phase Aesthetics an SEO Project On Page
Only once all the technical part is solved, we can think of stage aesthetics. This phase has more to do with the user 's interaction on the site .
Here we consider both the production of content for your website and your blog , as the user experience on your site.
This is where you should start working your keywords . But how? The keywords you choose for your Blog is a crossroads as: Relevance for your X solution segment to your potential customer , importance for your business , volume keyword monthly search and the competition level of the keyword :
Relevance to their solution X segment to your potential customer
Often the customer site draws his choosing terms that make sense to him, but that are not necessarily used by customers.
Technical terms, nomenclatures used by experts, for example, may cause you to not be easily found for potential customers looking for your service or products.
Think about how people recognize what you offer to them and try to escape the "tecnês".
Importance for your business
We often have a website with various services and various products. We know that today reach the first page of search engines is a difficult task, planning and lots of hands-on. Therefore, it is imperative you understand what your core services and products for all initial efforts are focused on these pages and in those terms.
No use wanting to appear for all services and products.
We have to do a cross between:
The more people seek?
What is my flagship sale?
What's more profitable for my business?
So you will have a project well defined for all investment and work is profitable.
Volume Search from Keyword
It is an estimate of how many Internet users looking for the keyword of interest.
Pay attention to the difference between keyword and search term.
The key word is made up of one or more words you choose for the content of your site.
The search term is a word or words that the user uses in the quest to get to your site.
Then it is very important to align the keyword of your content with the search term the user.
For example, suppose you sell shoes and want to rank for kind words: women's shoes.
You need to see if the user just looking for this combination of terms or perhaps some variations, eg woman's shoe.
You understand that has a small difference between the two cases.
As Google rewards relevancy of your content , the more your keyword is close to the search term, the more it will be considered relevant.
To get an estimate of search terms by Internet, you can use tools like Google Trends , where you put the keywords of interest, segment by period.
The Google Trends will provide you the search trends of these keywords.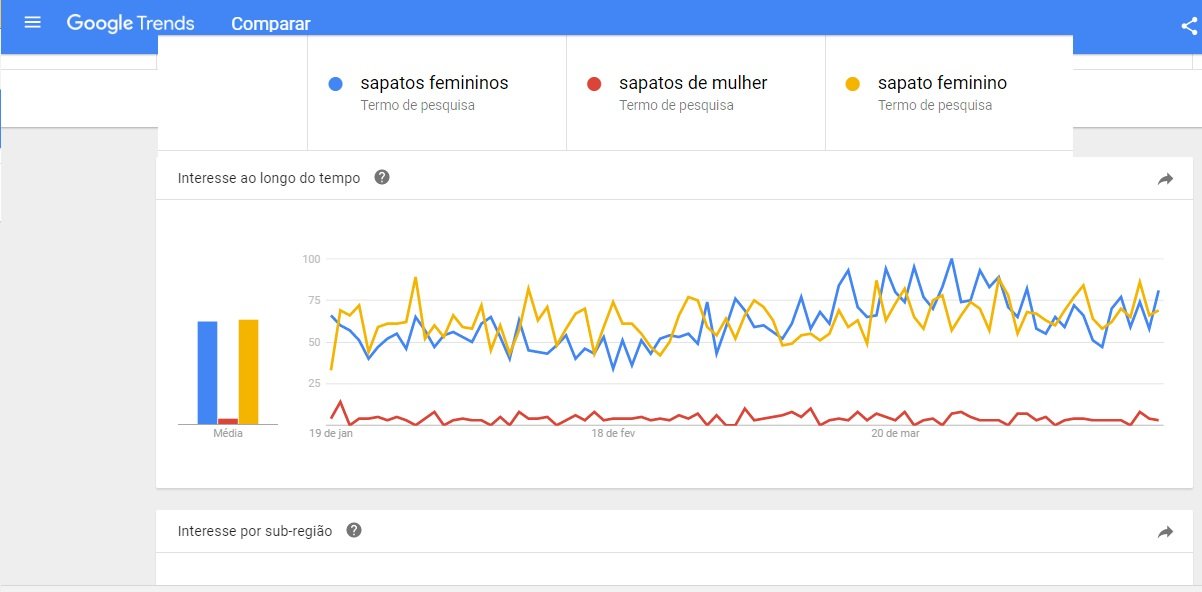 You can also target by region:

Another very important tool for this purpose is the Google AdWords Keyword Planner, you can access this link .
When entering your keyword, this tool not only passes you a search estimate, but also some suggestions of semantic variations of the keyword.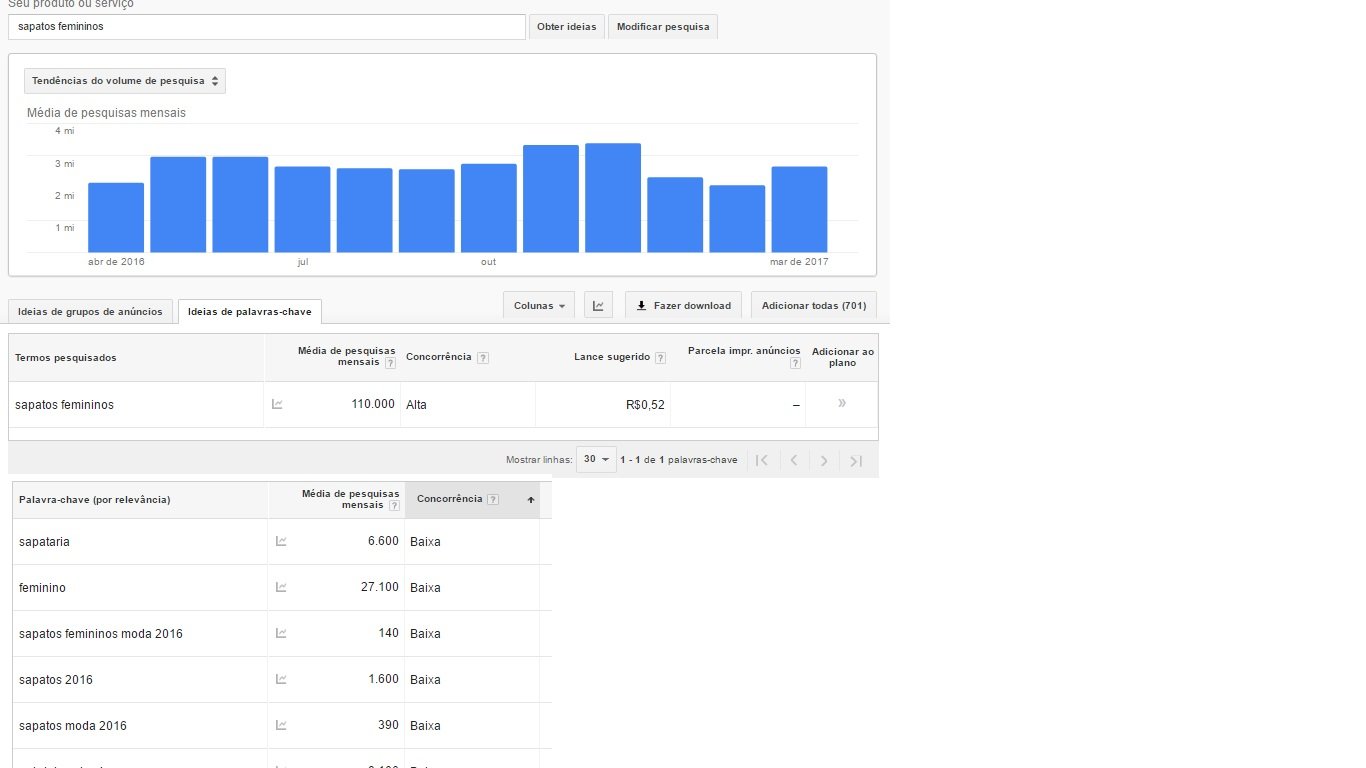 Semantic variations are very important for two reasons
First reason: They show the search trend these words (column: Search Volume )
Second reason: They help you to define synonyms to your content.
This part is super important because if you want to appear by the word feminine shoe, can not fill your content with this keyword.
This was true even years ago.
Nowadays, if you enter the same word often without variations, the Google will understand that you are trying to fool you.
This process is known as keyword stuffing (filling keywords) and must be avoided.
After all you are at the stage aesthetics of the optimization process , the targeted phase for the user.
And the user will bother to always read the same thing.
And Google rewards the user experience on your site, then will start penalizing your site by using this technique.
The User Experience Importance of Your Website
Another important thing at this stage aesthetics is the user experience on your site.
In addition to find relevant content, it will want to have an easy navigation and a nice interface.
If not, it just goes away.
When you visit only one page of your site without navigating more talk of rejection.
The Bounce Rate (Bounce Rate) measures the number of users who have visited only one page of your site divided by the number of users who visited more than one page.
The higher the rejection rate of your site, the less authority that your site will get to to rank.
You will need a bounce rate of 60% down, or means that your site has problems of interaction with users.
Another way to test the user experience on the site is through usability testing.
This test is important for every type of site, but it is necessary for ecommerce.
Stages of a Usability Testing
Set the audience and your persona ;
Choose between 15 and 20 users that fit these personas;
Middle them to enter the site with a specific goal (eg, buying shoes );
Record user interactions on the site;
Prepare a report of the commonalities of the experiences of the various users;
Identify the weaknesses of your website;
Implement the necessary changes;
If you can do another test round (with others, of course).
If you need help to implement a usability test for your site, leave a comment down here or contact with the team NoTopo.
Competition analysis of Keywords
It is not enough look most searched keywords by Internet.
Also need to analyze the level of competition of the same.
The level of competition estimates how many other sites are working the same keyword.
If you want your site to appear the word feminine shoe, this term does have large search volume , but also a high level of competition.
This means that even you working these terms, it will be difficult to rank for it.
For probably have many more companies to have greater authority you with the same word.
It will be very difficult to overcome these companies in the ranking.
And then? Then, as spoken in the beginning, you need to find a balance between search volume and level of keyword competition .
Here entering the concept of long tail keyword
What is a Long Tail Keyword?
A long tail is a keyword with various search terms.
Usually at least four.
In our example, a long tail can be: female shoe sold in São Paulo.
I believe that gives to understand that the greater the number of terms in the keyword , the lower the level of competition , but at the same time the search volume also drops.
Clearly using the terms São Paulo you are cutting users of Rio de Janeiro who want to buy in Rio.
But you are cutting all that part of competition interested in selling in Rio .
To set assertively its long tail, you need to have clearly defined your target audience .
So, if you prioritize sales in São Paulo , you can add these terms to your long tail keyword .
Here you can still use Google Trends and Planner Google keywords to understand search volume and level of competition.
If you are already familiar with these tools, so you can think of other, somewhat more technical as SEMRush , and Web Similar .
Once completed both phases of the project On Page SEO , must now focus on the techniques of SEO Off Page . Ie create links to your site.
We will deepen the subject of backlinks in another article.
However, if you need more specific information about the key factors of a project SEO On Page , leave a comment here below or get in contract with Time NoTopo .
But do not forget that Google will recognize your site only through links to it.
No use to create the best content in the world, without a dissemination strategy .
Conclusion
We saw that for a good project SEO On Page is not enough to fill your site's keywords .
It is necessary to work and detailed planning that pass through the levels hygienic and aesthetic.
If you are familiar with codes and content creation, you might even start to move, get their hands on to see where it will arrive.
Anyway, if you need any specific tip, leave a comment here below or contact with Time NoTopo.