Who finally decides to enter the virtual world and create a website, barely knows the work has just begun. After all the market analysis in its class, create a domain check and lodging prices, it's time to optimize your site so that it give the user a pleasant experience inside your page.
Also, most importantly, using techniques SEO so that it is well positioned in search sites, like the mighty Google. Within this article we will present some SEO tips for website optimization. Come on?
1 – What is SEO?
Search engine optimization or for good Portuguese, search engine, is a set of techniques that you use within your site to make it well positioned in search engines. When a person wants to look for a site or some information, it goes where? That's right, she puts the question on Google to find what they are looking for.
And if your site has a good service SEO , most likely it will be in the first pages of Google and will be easily found by browsers. And more importantly, your work need to have the focus to appear on the first page of Google, because face it, anyone who goes to the fifth or tenth page of Google to search something? Unless you are giving the famous control c control v in an article for the school and do not want the teacher to find the job that you copied, no one passes from the first page.
But how to optimize my site working with SEO? Well, it's simple.
2 – Search for keywords
This is the first step that must be done when it comes to optimizing websites. Let's say the site you want to create is about fashion. You must access the ahrefs and look for people who want to know about the fashion world are looking for. But how? Is easy.
Accessing ahrefs, check on the " keyword Explorer ", as shown in the picture below:

After clicking this option, you will place the word you want to focus as the main keyword, but remember that you do not focus on just one. You can have several keywords scattered within your site, just make sure that the chosen keyword is searched by people on Google.
Let's say you put "fancy dress" as a keyword. Put it in the description and select to search in Brazil. Will appear the following information: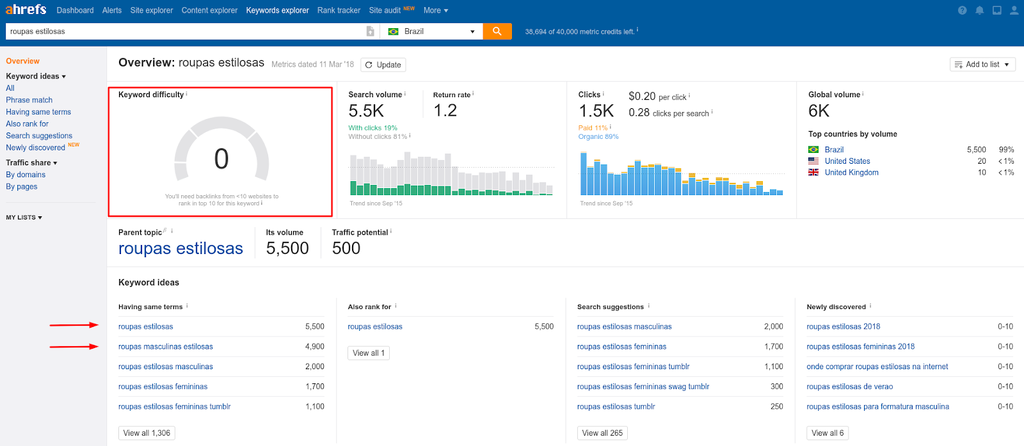 Note that the first two " keywords " highlighted below are the more people seek. You can click " View all " and check all the keywords that users search involving this matter and how they approach research. Based on these data is that you ride what the best keywords for your site.
Remember that you will have a fashion blog, but will not be just to talk about fancy dress, you can talk about many other issues, such as travel, celebrities, events. All involving the entertainment world, and it covers more keywords further, which also helps in optimizing websites.
Once you have established your keywords, spread them to every corner of your website. Of course not in a forced manner in which the user bother to access your page or read some content. But put in the URL of your website, put in the meta description and mainly in the content that is produced.
3 – Content production for website optimization
Ready, set keywords, it's time to create content. And you'll need to create a lot of content. Produce texts on products that you do review (as the site is about fashion, make review of various types of clothes and styles), celebrities on texts, entertainment, releases, all your blog can address, you approach. And always putting the keywords of each subject in the middle of the text.
Once you have a well optimized blog with keywords with content of all kinds of subjects. The more content containing the keywords you produce, the faster you will go up in the Google rankings.
It is important to remind you that what matters is to produce a content quality . Do not be thinking of fit the keywords everywhere in the text because the reader will notice that it is a forced content. Put them naturally or so after finishing the article, read it again and go by entering the keywords.
3.1 spy on your competitors to website optimization
As a true James Bond in real life, you will pay attention to keywords and content of your competitors who are already at the top of Google. No need to invent the wheel and produce a totally different content with innovative keywords. No, you probably will not get a good result. As the topic above said, you'll produce a lot of content, but a content better than those who are at the top and with the exact same keywords.
After you create a higher quality content than its competitors, who did all the hard work and are already at the top of Google, contact sites and blogs that published the articles of your competitors linking to their page and show your content.
If these sites they like your content, they will publish it and will link to your homepage, so that increases your traffic and your position in Google.
How to know which companies perform this service linking to competitors? Is easy! You can access the site backlinkwatch.com and enter the URL exactly your competitor you want to check and click " check backlinks ".
Below will show a list of all the sites that make backlinks to your competitor. You can contact these sites to directly reach your competitor. Getting backlinks, your site will begin the climb to the first Google positions.
3.2 – Headlines in content
The titles of the topics that you will speak within the content can vary from headline to headline 1 6. It is important you use the headlines 1,2 and 3, as they are important for SEO . The article title always place in H1 , the topics that will talk about the issues in H2 and smaller topics, incorporating the major topics in H3.
4 – reliable URL
You have come across a few sites where the URL does not say anything about what is the content? Yes, you can set up and is part of website optimization. So you are not left in doubt to enter certain sites for fear of what you can find. Leaving the URL as clear as possible, you show the reader what content it will find by clicking on the link, you are specifying. For example, if you want to share this content to a friend, the person receiving the link will know that the text is on site optimization, if one appears, may even find it to be some kind of virus or catch.
5 – Prepare your meta-tags and title
As already said, you should spread the main keyword throughout your website. And in the code HTML of a page, there are the tag "title" and the tag "description". The code should look like:
<Html>

<Head>

<Title> Write here the title of your page </ title>

<Meta name = "description" content = "Summarize your page here in this space">

</ Head>
The page title should have the main keyword. That is, for all content or part of the site you build and produce, it must contain the keyword in the title always. Remember that the title can not be too long.
Already the meta-tag, meta description or you can work a little more on top of it, added to secondary keywords. It is a summary of their work within the site, so it can be a little longer than the title. When it comes to search engine optimization, meta descriptions are extremely important.
A perfect example of our own website. The meta description explaining briefly what we do including the main keyword and other secondary. This is very good for SEO.
6 – Work with the SEO on the images for website optimization
A website is not a site when it has no pictures, is not it? And it is very important to the reader and also for SEO your articles contain images. This helps to better understand the text and thus help you in Google positioning.
When you upload images, rename the file with the keyword article writing. So if by chance you want to save the image by opening it separately in another tab, your keyword will appear in the URL.
7 – Website Optimization for mobile device
2016 2018, access of users through mobile devices grew by 5 times . How many people do you know that does not leave the cell? Yeah, it's just not your child or friend, is an entire generation. Four out of five consumers conduct online shopping through mobile phones .
These figures only show the power that mobile devices have and will have over the years. It is much easier for a user to access a site by mobile phone (if the page is well optimized) and make a purchase or reading an article than to computer users. In addition to all applications to bank in some cases, you can even discounts.
8 – Use Google Analytics in website optimization
This will be your main tool next to the ahrefs that was mentioned before. Google Analytics will analyze and collect all your page's traffic information in addition to the behavior of users on it.
With this tool you can: number of people who visited your site or post, where that user is accessing your content (which site he was surfing before going to his own, of which city he is visiting), if he was accessing a computer or a cell phone, how much time he spent in each area of ​​your site, which page is the "least read" by its users and what the most read, etc.
Based on all this information, Google Analytics gives you away the data and you get to work the optimization of your site on top of that. You will be able to target more content, improve articles, achieve their main readers positively and more.
And for all these tips in to work, you need a "feedback", right? And Google Analytics will be just that, so this tool is indispensable.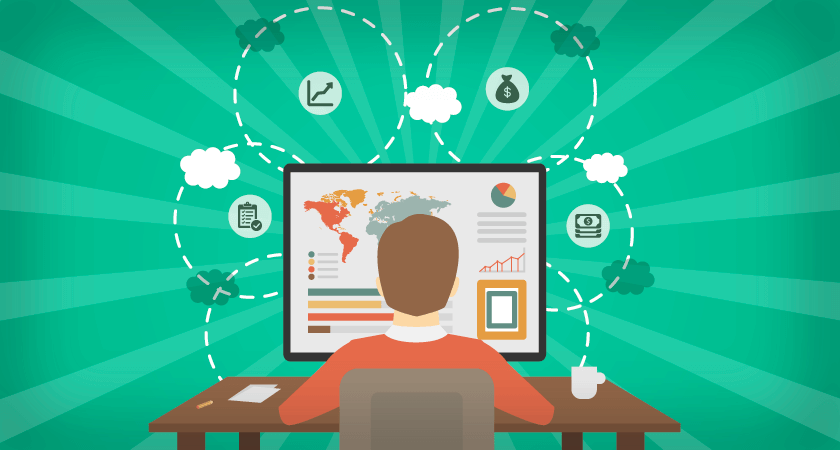 Conclusion
With these tips presented you can imagine that having a website is not just acquire a web hosting and choose a nice topic to put the contents. You need to work hard on top of your page to want to be known, to gain access and money. Use techniques SEO for website optimization and you're treading a track.