You're making an AdWords campaign – either on your own or a third party – and is not having the desired result? This can happen when we do not follow some basic steps in time to set the campaign.
Apart here 6 of the best practices we apply to all of our AdWords campaigns. Even if you do not make your own campaigns, this content can help you understand better about it and ask who does it is by following these practices. Check out:
1 – Plan your keywords
Make no mistake, this is the most important phase for the success of your campaigns. The choice of the keywords need to be made and detail, ok?
To help you in this step Google offers the very tool Google Keyword Planner , which is totally FREE .
Just just enter the keywords you believe are most appropriate to your business or product, soon after the tool provides you with good keywords ideas that you would be interesting to use in their campaigns. Cool, is not it?
But does not stop there. With this tool you can still target your audience, see the monthly search volume, the value of suggested starting bid and still give spied under that your competition is using.

2 – can not miss the negative keywords
A lot of people forget to enter your negative keywords and as a result end up spending a good amount of your money to unqualified users. Why is this so important to know the words you want to associate your company, as well as you do not want.
An example is you sell online courses.
Ideally you negativar the words' free 'and' free ". So you will not appear for searches on 'free online course' 'or "free online course' '.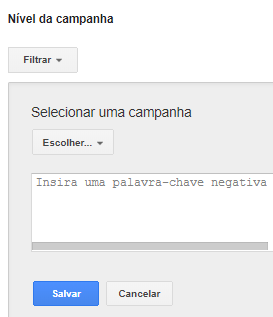 3 – Target your campaign by devices
There're a very important step, but it ends up being long forgotten at the time of setup of campaigns.
If your goal is to reach people who visit your site for mobile devices, so do not waste time, put this segmentation. And it goes for the opposite case as well, if your target audience tends to shop the desktop in almost 80% of cases, so it is important that you target your campaigns for such users.
4 Enjoy also targeting geolocation
You own a local business or even a virtual store that can make delivery only in specific places? If so, then take the geolocation targeting.
Every device has an IP address that can be traced, which indicates the location of that user. Try logging into Google Chrome and view the end of the search page. It will indicate where your device is.
So do not hesitate. A good geographical segmentation can increase the effectiveness of their campaigns quite efficiently.
5 – Add the ad extensions
One way to make your ads stand out in the research is to use ad extensions. These extensions allow you to make the inclusion of various additional information to your ad, in order to provide more reasons to your audience choose you instead of your competitor.
Has the call extension, link site and several other options that you can check out our exclusive content ad extensions.
6 – Make reviews and optimization an ongoing process
Assess, optimize and then assess again!
Just do the setup of campaigns and set them to run will not bring the results you craves you. You need to go further to achieve your goals.
Google AdWords provides a number of extremely important metrics for you to analyze and measure the data of your campaigns. In fact, whether a key tip? If possible, review all the results daily to you can identify any bottlenecks that can be fixed with an immediate change in the tool itself.
Check out some tips for you to optimize your campaigns.
Well, there are many other AdWords best practices you can develop over time. However, never forget: closely monitor the development of their campaigns is critical to your success.
You got any questions? You can ask me I say
By the way, want to know more about AdWords? Click here and keep checking our exclusive content of the blog.