You have many likes on your facebook page, but do not know what to do to turn them into sales?
This is a very common problem, since in fact get many likes on Facebook is an easy thing.
As? —-> Just pay!
But these likes will not necessarily turn into sales.
In another article we saw how to turn these likes into leads .
Now let's see the entire process to use the All Social Networks commonly used as a source of income, which is called Social Selling .
First the fact that the likes do not become customers, does not mean that Facebook does not work, but we're comparing … bananas with apples .
I'm gonna explain.
What is a funnel Sale?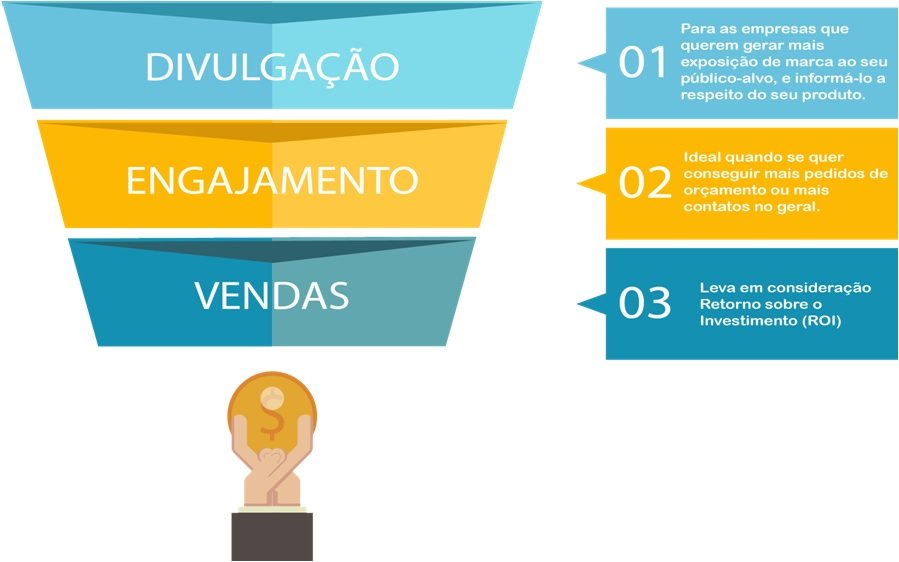 First you need to understand what is a sales funnel.
A sales funnel is the journey of a potential customer until it becomes fact customer .
There are many potential customers at the beginning of the journey that will decrease during the phases of it.
Those who come to become customers represent a much smaller percentage of those who started the journey.
We can see that each funnel stage actors always have less. And that's what creates the shape of a funnel.
In order to work in social networks , like sharing the sales funnel in 3 macrofases :
Release Phase
Engagement Phase
Phase Sale
Each phase will be represented by activities and different strategies and different Performance Indicators (KPI) .
For each thing we do in the digital world, we need to define a KPI to be able to track the performance of the activity.
You must define these KPIs before starting the project, and then define a strategy to achieve the desired value for these KPIs.
See video what exactly KPI
Sometimes it is quite difficult in the social world, but it is still necessary.
When we associate the number of likes the number of sales, we are joining two phases of the journey.
Two phases of the funnel should be dealt with differently.
When we talk about likes 're talking about Funnel Top (shown top) .
When we talk to customers, ie sales, we are talking about the Funnel Fund.
It is clear now because we are confusing apples with bananas?
In order to establish what kind of strategy to implement the social networks, you first need to understand what stage is working, noting that the average user has to go through all stages.
For point not want to work the Stage 3: Sale without having worked the previous phases.
But how to know which stage work?
Phase Zero Social Selling: Current Situation Analysis
I love mathematics and one of the things I like math world is that no formula valley forever.
Each formula is only valid under certain boundary conditions .
I have the habit to apply mathematical principles to Business and sometimes to life, then for each plan to develop the first thing I do is to establish the boundary conditions.
Applying these concepts to our strategy, this means understanding:
Your current situation
The resources available
The Phase Zero is nothing more than the analysis of these two points.
Speaking specifically of Facebook , the analysis of their current situation includes the following points:
Number of likes on the page
What is your post frequency
The Likes come from your target audience
What kind of post generates more likes, shares, comments?
What are the types of post that generates the maximum range?
What is the maximum range and medium-range generated by post?
Is there a difference between the use of hashtags or not?
Once understood the current situation, you need to understand what resources you have available.
In this mini video to Youtube Channel of NoTopo , show what are the features of a project of Digital Marketing
This is how many man / hours you have available each day and what capacity / competence.
I suggest a minimum of 2-3 hours a day in Socias media , whatever the type of strategy to be implemented .
Aware of the resources available, need to understand what purpose SMART will want to achieve.
Recalling that SMART means:
S: Specific
M: Measurable (measurable)
A: Achievable (reachable)
R: Realistic (which is realistic according to its segment, investment, etc.)
T: Time-bond (limited in time – to set date)
To learn more about goals SMART of Digital Marketing , watch this mini Video Channel Youtube Notopo
SMART goal for a Strategy of Social Networks in Brazil
Always repeat a phrase from Walt Disney :
The difference between a dream and a project is a date.
Want to achieve a goal is pure utopia without clear until when will want to get it.
And once set the date of arrival , the viability of its strategy depends on the resources you have available and your starting point.
Imagine you have 1,000 likes on the page and frequency 3 posts / week , reaching on average 50 people for posts with an average of 1 like / post.
Worth working a strategy Sale ?
Probably not.
In this case you still need to work to phase Disclosure .
Phase 1 of a Social Selling project: Disclosure
In phase dissemination your goal will be to increase the base of his followers, that is, the basis of their likes .
In fact Facebook differentiates the Likes of Followers , but usually the difference between the two is so low that we can consider them the same.
If you hit an average of 50 people per post , with 1,000 followers on the page , your content is seen by the 5% of its base .
Assuming that this percentage becomes constant, to increase its scope needs to increase the basis of your likes .
Then your KPI principal, in phase Disclosure brand, your Brand, is the range .
Clearly you need to consider other KPIs. These are:
Number of likes , shares , comments ,
Sales made.
You can set a different primary KPI than that proposed here.
However it is extremely important that it established the main KPI , it will be this that will allow you to decide when it is time to move on to Phase 2 of Engagement .
Even if you create super interesting posts for public Facebook, which can increase organic forms the basis of their likes, the only way to control the increase of their followers directly is through Sponsored Links , ie Facebook Ads . What does 'buy Likes'.
The final Facebook won by ads, so there 's not much to get out of this.
You may consider that Do 1 Disclosure may take between 2 and 3 months.
Phase 2 of a Social Project Selling: Engagement.
Once you have a sufficient number of likes / followers on your page and consequently a number of people who are affected by its contents, you can work the engagement phase.
Always keeping an eye on other KPIs already mentioned, at this stage you need to engage, then your main KPI will be a weighted average of likes , shares , comments .
Engage is a proactive activity, then can not be limited to receiving likes and comments .
You need to understand where they come from these likes . Are personas of your target audience ?
Also if someone mentions your brand or comments on your post, do not miss the occasion to thank and respond to the comment, perhaps providing more details about the post, perhaps creating another post that can complement.
Probably one who commented and likes your post, and comment on curtirá complementary post.
Do not forget, in phase Engagement , to interact with Market Influencers , publishing interesting posts them and tagueando them in publications.
Probably themselves curtirão your publication or even share.
So you enter the network of influencers .
To learn more about strategy Influence Marketing, read this article .
In this case also the Facebook Ads can help in boosting Posts that are of interest to your target audience .
Important: the dissemination phase you pushed the page at this stage you boost posts
Once your brand and your services or products are well known and people are engaging with your content, you can move on to Phase 3 Sale.
Phase 3 of a Social Selling project: Sale
At this stage clearly your main KPI is the number of sales you generated by your profile on the social network unto with the average ticket .
In the previous stage you built trust of your followers in your brand.
Now that you are seen as a benchmark in its segment, you can finally offer their services and products.
If you do this in the earlier stages, you will appear too aggressive.
You were dating.
Now it's time to ask her to marry.
To propose your product or service, you can create posts with links to your website where your product can be purchased in case of ecommerce , the where people can contact you through forms.
But you can also encourage their followers to contact you have on your Facebook page or to buy your product through ecommerce integrated into your page.
Conclusion
A project Social Selling goes through three stages of implementing another phase (phase zero) analysis of the current situation of your brand in the media.
These phases follow the concept of the buyer 's journey through the funnel Sale .
Follow all stages will allow you to understand the Franks points and strengths of its processes both Marketing as Commercial .
Skip one of these stages you can generate some sales but because they are outliers, will not be enough to sustain your Business .
If you want to complement this article with some tips from his experience with Social Selling on Social Networks , opine on this approach or simply ask to take some questions, leave a comment below.