Did you know you can make your site more friendly to visitors and also increase his traffic to learn how to optimize WordPress images ?
No pictures, most sites would look like if they were a bunch of texts lifeless. And to draw the attention of users, high-quality images are of utmost importance.
In addition to help you split your text and let it much more pleasant to read, pictures can also bring more traffic to your site by the results of image search But to get all these benefits, they need to be optimized correctly.
Most users who have a website in WordPress just uploading images that are not exactly optimized for the internet. Thus, these images can do more harm that actually bring any benefit to it.
In this article, you'll learn why optimizing images for the web is so important. For this, we will show five ways to optimize images for WordPress.
Why you need to optimize WordPress images
Failure to make images of the optimization can cause your site to have serious problems. Among them, the loading speed and bandwidth.
Images can take up a considerable amount of space and most of it is unnecessary. Below you can see some reasons why you should optimize WordPress images:
Your site will load faster
A site for sure with slow loading will offer a poorly user experience. This brings even greater rejection rate to a site and less time spent accessing a particular page.
You just may not want your visitors to stay there waiting until all images are loaded. You think of the boredom of the situation? Of course they would run out of your page and probably never return there.
Your website will consume less server space
Generally, you do not get to reach the storage limit of a web hosting service. But having a website that uses less server space can make it more agile.
You can reduce the swelling of your site and cause it to have a more fluid and fast performance. In addition, you can also reduce server costs. This is what you are paying is based on storage space.
Your rankings in the search engines will improve
Google and other search engines just hate slow sites. Optimize your images means that the performance of your site will improve. With this, your ranking in the search results will also.
With the images already optimized, Google will also find and to rank the images on your site faster. If this happens, your website can receive a significant improvement in traffic.
The process of optimizing your images do not have to be difficult and not take too long. It must be, in fact, part of their routine work. But if you fail to make the optimization of your images, your site may be the Biggest Loser.
Below you will learn how to optimize WordPress images in a way that is possible to combine quality without sacrificing the performance of your site.
5 methods to optimize WordPress images
He understood the importance of optimizing images WordPress? With this technique, it is possible that before long you get more traffic and better placement in search engines.
Your goal with the image optimization is to reduce the file size without compromising their quality.
There is no perfect formula for optimizing an image. Instead, you will have to adjust some features and balance what is good and what is not separate.
There are several approaches you can take to optimize images for web. You can even combine some of them to ensure that the file size as small as possible.
Keep reading to learn 5 methods you can use to optimize WordPress images and bring a number of benefits to your website.
1. Choose the correct file format
Before you start optimizing your images, be sure to choose the correct format for the image file. The image format you choose always affects its final size and the ability to optimize such an image.
The two most common formats are JPEG and PNG .
The JPEG format is commonly used for photographs and images in general, because it:
It has a smaller final size

It provides a solid quality

It can be resized or compressed without losing much quality
But the PNG format is commonly used for vectors, logos, screenshots and smaller images. Because of this format always generate images with larger size, avoid using it frequently.
In addition to JPEG and PNG formats, there are many other types of image formats. But they are not recommended as well to optimize WordPress images or to optimize images for web.
But there is an exception. You probably noticed the explosion of the GIF format in recent years. These small animated videos in image format can be used to improve content you already have.
So if you plan to insert some animated video in your content, ensure that it is in GIF format and not in MP4.
2. Compress your images
When compressing your images, you'll need to find a balance between the quality of the compression and the final file size of your image.
With minimal compression, you will have a larger and heavier file, but the image quality will also be better. With a higher compression, the image file will have a smaller size, but the image quality will also be affected, have less detail, color and resolution.
Your main goal should be to find a decent middle ground between the size of the images and the quality of it in the file compression.
If you have a website that depends entirely on the quality of the images, such as a photography site, for example, you may spend more time finding this balance. But you will be able to move in the optimization settings for each image you need to enter or work.
Below you can see some suggestions for tools to optimize WordPress images. You can use tools on desktops, browsers and plugins to WordPress to compress your images without compromising quality.
Tools type of Image Optimization "Do It Yourself"
Desktop tools to provide more control for your optimization settings. If you are used to working with photo editors like Photoshop, then you may end up choosing this approach.
Some of the most popular tools for desktop platforms include:
The above tools has a certain learning curve. But at least they allow you to use the image optimization tools that best fit your needs.
Automatic optimization tools image
If you prefer a more simplistic approach, you can use an online tool that automatically optimizes your photos and images.
These tools are great if you do not want to spend much time learning the pros and cons of an image editing software.
Some of automated tools for the most common browsers are JPEGmimi and TinyPNG .
With both, all you need to do is upload your photos, run the tool and download the image already optimized for your machine.
But if you still prefer to use an automatic image editing software, you can also use programs like ImageOptim , OptiPNG and Trimage .
compression plugins for WordPress
Like most things WordPress, there is a plugin for each type of problem you have doubt.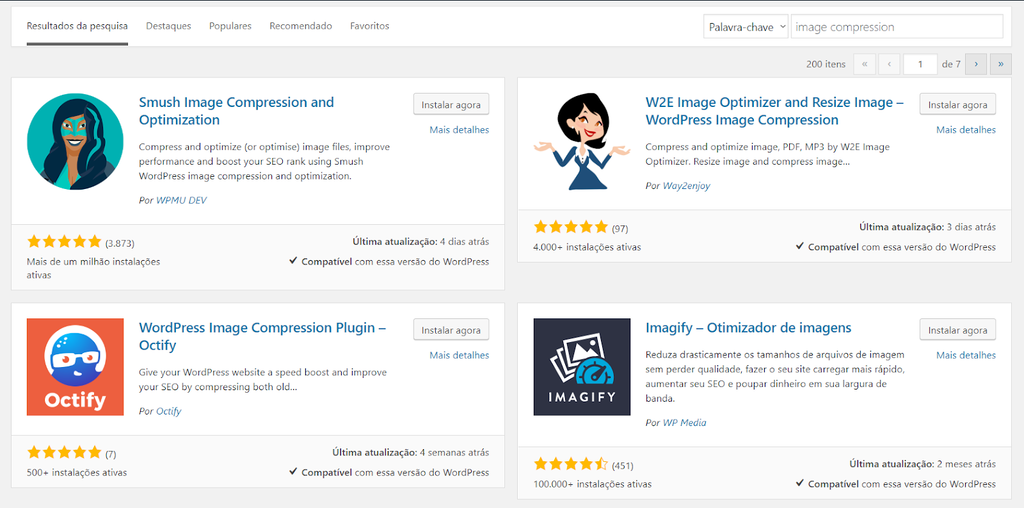 The plugins below will optimize your images that you upload. And also optimize images you already have in your WordPress library.
Imagify Image Optimizer

– This plugin offers several levels of compression, image resizing, image storage and more.

ShortPixel Image Optimizer

– This free plugin allows to compress up to 100 images per month and deals with different types of formats. In addition, it has an integrated restore function and robust optimization.

this tutorial

.

Optimus Image Optimizer

– Extremely lightweight, this plugin optimizes your images without loss of compression. There is no loss in overall image quality, just a reduction in file size.
3. Resize images for optimal display
Before you start optimizing your images to WordPress, it is recommended to first make a resize them.
It makes little sense to upload an image heavy (with large file size) to your website. Especially since it will be resized anyway.
Before making any upload, choose the correct size for your images. That way, you will already be dealing with smaller images from the beginning.
For example, let's consider that you need an image in the dimensions 300 × 300 pixels. But instead, you do upload the image size 3000 × 3000 pixels and forces your WordPress theme to reduce the image to display it according to the desired dimensions.
This will not only increase the bandwidth of your site, but will also make your photo load very slowly.
The best approach in this case is to write down the image dimensions required by its subject and scale your image accordingly. Then, run the images in the optimization tool and upload them to your site.
4. Images must be properly cut
WordPress has a built -in image editor that allows you to cut your pictures by own control panel CMS .
Although this option is very useful, we recommend that you cut your images before you optimize them and upload them to your site.
If you notice that an image to be cropped to best fit the pages of your site, delete the image from your site, cut it off and then redo upload it.
This is a great way to avoid having to stand redoing many issues within the control panel of your website and saving multiple versions of the same file. This improves the load of your server and the overall size of your site.
5. Improve the SEO of your images
Did you know you can optimize WordPress images and help your site and your pictures a ranquearem better in the search engines?
Optimize your images will increase the speed of your site and improve his chances better ranked. But there are some additional steps you can do yourself to improve the SEO of your image.
Follow these steps to improve the SEO of your images.
Optimize Title Text of your images
The Title Text an image appears when the player moves the mouse over the image that appears on the posting on its website.
There is something extremely important for SEO, but this little trick can improve the user experience.
Title Text to change your picture, go to your post editor, in the section where you have uploaded the image and already entered in the posting.
Hover the mouse pointer over it and an icon in pencil format will appear. Click it (option Edit ).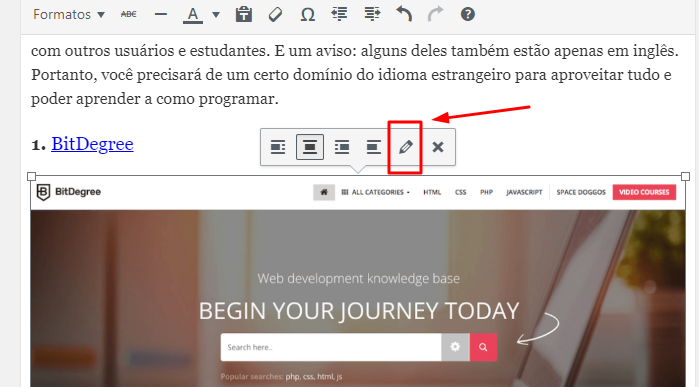 On the screen Advanced Options , you will see a field that allows you to give a specific name or a title (Title Text) for your image.
Set the attribute ALT tag of your images
The ALT tag attribute is what will give Google an idea on what is your page, post or image.
If you have multiple images on a page, the first image is one that should contain your main keyword.
All other images must have a variation of that phrase, yet keeping the meaning or semantics of the image.
To change the ALT Text attribute of your image, go to the post editor of your page, hover the mouse pointer over the image. Click the pencil icon in format (option Edit ).

On this screen, look for a field named Alternate Text and enter your keyword or keyword related it.
Use an appropriate file name in the image
The name of your image file can help you be better highest ranking players in the images searches. Something that can be an advantage in getting more traffic to your site.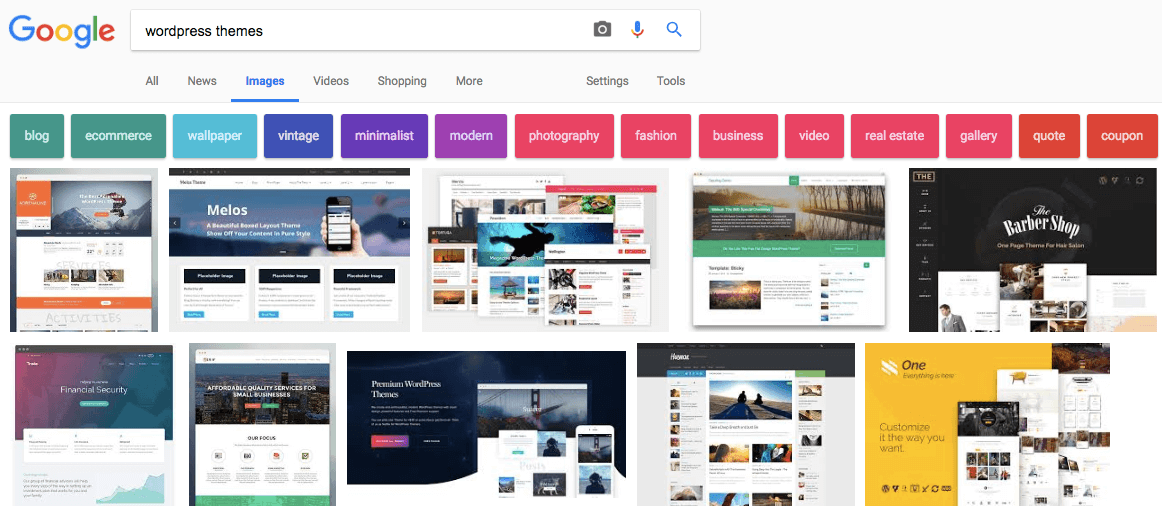 Instead of having a file name that does not make sense, change it to something that includes your keyword. Or something set on what the image is.
Before you upload your picture for WordPress, spend some time thinking of a suitable name for the file of your image.
Finally, if you will use many words to name the file of your image, be sure to use a hyphen between the words. Google reads the hyphen like a space.
Otherwise, the words will appear together for the search engines and the file name will not be readable for them.
Want to improve the SEO of your WordPress site? Access content WordPress SEO: how to add meta title, meta description and keyword and get better results in search engines.
Conclusion
Following the steps above to optimize WordPress images, it will be much easier for Google to see and love your site.
Your site will load faster, your visitors will thank you and the results of the search engines as well. All will be well optimize and attractive for your domain to be pulled for the best positions.
When you arrive in the image compression, it is important to test the settings and tools available to you to achieve a perfect balance between the image size and the quality of it.
It's a little hard to hit that balance right away. But it is worth doing some experimentation in favor of a faster loading of your site and in a more user-friendly navigation for your visitors.
Have you tried to optimize WordPress images and saw improvements in loading or performance speed? Managed better results on Google? Share your experience with us through comment boxes below!