You who are implementing a Digital Marketing Project for your business, have a clear idea of ​​the position of your Internet Brand?
Besides being concerned for sales and contacts generated by its strategy, you need to start thinking about branding your brand and how it is perceived on the internet.
This further goes if you think about scale and grow with your business.
I'm not saying to blur the purpose of sale.
Just I like to think of sales as short-term goal (to close the accounts … lol) and brand awareness for medium and long term.
First we see the difference between: analysis, monitoring and brand management
1. Analysis of your brand – reports and data
Analysis is the ability to break down a complex problem into several units easy to evaluate. So when we talk about brand analysis, we want to give an intelligent reading of the data provided by platforms that track everything that happens with your brand online (below we talk about what these platforms and the type of interaction).
2. Monitoring your brand – towards human behavior
Monitoring your online brand is still an activity over reading passive … with a little built-in housekeepers. But already beginning to go beyond how many likes you received from what place and at what time.
Monitoring can begin to understand how your brand is perceived on the Internet, either via comments on your blog, whether via interactions on Facebook or Instagram, or Linkedin.
Difference between Monitoring and Analysis
Let's take an example: you post a photo on your Facebook page.
In the analysis we see how many comments your post received and maybe we give weight to comment depending on whether it was positive or negative, or if it was a comment about your product or simply on the picture you posted.
In Monitoring you already evaluates the kind of comment, because in fact each has a unique advantage. You may reply to this review and monitor the result of your answer, to see the impact it is going.
3. Management of your brand on the Internet – planning and action
Monitoring you already interact with your interlocutor, but still half a reactive way, ie if it does not comment, do not respond.
In Management enters a very important factor at play: the Planning .
On the basis of its historical data (the analysis ), you can estimate the amount of comments that you may receive in the next posts and how often will have to interact ( Monitoring ). Then you need to estimate a time for it, this work plan. Here's Management .
4. Plan bit, plan enough or … plan … .demais (Overplanning)
Everyone speaks of the lack of planning in internet activities as a cause of not work. I, who live counter (rs …), I think in fact the lack of planning was protagonist until 3-4 years ago. Now with all platforms and the data available, I believe the problem is the opposite: Overplanning .
If you plan very, very, very … in spreadsheets. And when trying to implement what has been planned, we hit the head on the problems that we can not predict.
We quiets planning in Excel spreadsheet, forgetting that on the Internet things change so quickly. What else is worth testing, read the results ( analysis ) and adapt the Management Strategy. This is nothing more than the concept of Lean Startup, if you are in the world of Startup, or Machine Learning , if you follow the fashion of the nomenclatures.
Nor am I saying not to plan their activities. To get an idea if your design is right I suggest to plan your time is between 20% and 30% of the time to execute the plan:
If the time you need to plan is less than 20% of the estimated running time – you're being impulsive
If your time to plan is more than 30% of the time to run – you are doing Overplanning .
See also: Tactical or Digital Marketing Strategy – how to decide?
But why monitor the behavior of your brand if you are already selling?
In principle, as you are selling today, we can say that the perception of your brand helps you keep sales in the medium and long term, in time more difficult.
Market Opportunity
If we talk about medium and long term, we can think of designing a strategy that might be a little different from the present.
The current strategy, even going right now, probably will not work here at a time. The market changes, culture changes, consumer behavior changes with your needs.
And you need to change with it and adapt. You need to predict market trends before they happen.
So for a good strategic planning, monitoring of your brand will help you to see new opportunities on the Internet.
See also: Errors and scores to Manage Pages on Facebook
5. Process monitoring of your brand
Let's see the main steps of a process of brand monitoring:
Analysis before the Competition
Good monitoring of the brand includes a Competition Analysis .
We suggest always consider its three main competitors and monitor them together with your brand. So you can see new opportunities and identify gaps in their strategy.
A good competition analysis will result in the generation of new ideas for your business.
This analysis can be done through the keywords for which your site ranqueia better, or via performance of Social Networks .
This can be done both in Facebook reports, where you can monitor your competitors and their performance before their mark, or also using external platforms like SEMRush .
See also: What is Benchmarking and how to a Digital Marketing Project
6. Purpose of your project: Disclosure vs Sale
Often they seek in companies that want to show up on social networks and Google, but also aim to sell more. Appear more does not necessarily mean selling more and vice versa.
Making it clear that after account every company wants to sell more when we speak of goal, we are considering more short term.
Definition of term
To get an idea of ​​quantified short, medium and long term, we think:
Short term: up to 6 months
Medium term: from 6 months to 12 months
Long term: beyond 12 months
If your company wants to sell more and grow in the long term need to establish the way to get there. And this path is not always purely made of sponsored links.
However if we work one project of social networks in order to sell more, we'll be fine frustrated. It just happens because of the nature of social networks not be direct sales, but creating virtual communities.
The monitoring project mark must have as its objective the relationship with your client or your follower.
Yes, I know a lot of people selling miracles via Facebook and Instagram. But I do not believe in miracles, I can say that a good strategy needs to be focused on the optimization of their efforts to achieve their goal. Optimize, not eliminate.
Otherwise, everyone would be able to do everything.
See also: 8 Ways to Increase Engagement in Social Media
7. Target audience and distribution channels
Set your goal and aware of your segment, you need to understand what or what are the most effective channels to promote your brand online.
That depends on your industry and your target audience.
Important for this purpose set your Buyer Persona, ie the simulation of your target audience.
To learn more about Buyer Persona, read this article ⇒ Buyer Persona: Be assertive and See your REVENUE increase! On the top
For example, if you focus on one segment B2B (Business to Business), perhaps LinkedIn can be a better community.
Longer if you focus on B2C (Business to Customer) and your target audience is younger, perhaps Instagram is your platform.
If you talk to class B when they go to or return from work on public transport, maybe your channel is Facebook or YouTube.
And so it goes.
8. Your Brand Persona
Once you set your Buyer Persona , you need to define your Brand Persona .
If the Buyer Persona simulates your client, Brand Persona simulates your company and how you want it to be seen by your potential customer.
This is crucial to define communication language and empathize with his follower.
For example, my Brand Persona is a mixture of Larry Page (Google founder) and Walt Disney.
See video the meaning of Brand Persona and Buyer persona
See also: What is Brand Persona? Learn how to create one for your company!
9. The monitoring metrics of your brand on Google
Here we analyze the performance of your brand and your website for some keywords relevant to your business.
First you need to define this list of important keywords for you.
For this you can use tools like:
You can find the details of the selection process of keywords in this article: How to choose keywords to pump your internet business!
Your ideal keywords are with low competition and high search volume .
However if they have high search volume, many competitors will work the same words, thus increasing the level of competition.
I suggest looking for the words in magic tool keyword SEMRush with search volume above 1,000 research / month and level of competition in max 70%.
But the truth is not in this article, nor in others. The truth is in TEST .
Test, test, test! Only then will make sure of its estimates.
10. The monitoring metrics of your brand in social networks
In this article we will not go in creating a brand dissemination strategy, which you can read in this article:
8 Ways to increase engagement on social media
But let's focus now on how to evaluate the results to see if the strategy worked or not.
The main monitoring metrics on social networks to be analyzed are:
Likes the post;
Likes the page or profile;
Post comments;
shares;
Mentions of the brand or its products or services;
native imaging performance against images shared the blog itself or third parties (curator);
Native performance videos from shared blog own videos (or YouTube channel) or third (curator);
Performance of native text against shared the blog own texts or third (curator);
Of course it is interesting to follow with sales generated and contacts. But it is extremely important to stress that a brand dissemination strategy the main KPI can not be sale, since you are working more at the top of the funnel.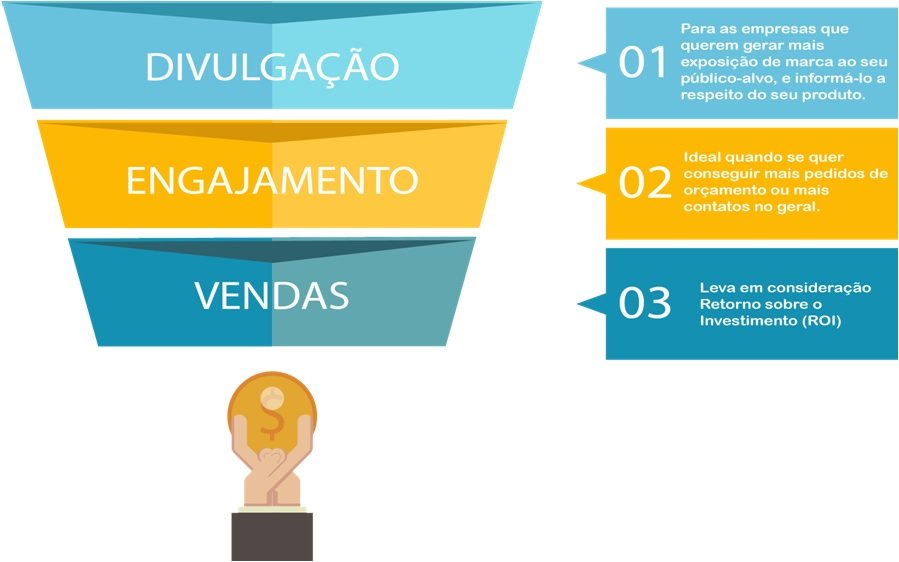 11. Tools for Monitoring brand on social networks
There are many, many tools to help you monitor your brand, free or paid.
With them you can group a screen only: mentions, shares, likes and everything you need to analyze the performance of your strategy.
We will summarize here those tested. I believe that is not of much use to explain how each of these works, for what else are you worth testing them to find what best serves its purpose.
Let's take a note from 1-5 depending on our experience and indicate whether it is a free tool (G), pay (P) or has a free version with basic functions and a premium with more functions (V).
Hotsuite (3, P);
Postplanner (4 V);
Streamline (3, P);
Buzzsumo (4 V);
Brand24 (3, P);
it (2, V);
SEMRush (4 V);
12. Discussion Forum
Just to close, the disclosure of your brand goes hand in hand with the release of their knowledge of the market segment, their pains and their remedies.
For this type of disclosure, you need to interact in the forum of your business.
You can do this by thematic group on LinkedIn and Facebook or forums on specific questions.
If you speak English suggest enter and track site Quora where you find questions and answers of any kind and any level of intelligence … rs
The good old Yahoo forum is also a good channel for this type of disclosure.
Without forgetting that this approach also enters the strategic concept of Review of Marketing .
See also: What's Comment Marketing and how to take advantage of this technique?
Conclusion
We saw the difference between Analysis, Monitoring and Management of your brand on the Internet.
We have also seen the importance of having a schedule that does not go beyond what is necessary.
We cover various types of monitoring , you need to design a disclosure of your brand and what tools can help you.
I hope you get the idea to implement a good Branding Project of your online brand needs much more that someone who knows mess on Facebook.
However if something is unclear, feel free to comment here below.
If you want to supplement their experience or simply an opinion, feel free!
See also: Getting Started to build a Digital Marketing Strategy