A receiving e-mail autoresponder is a message sent to a pre-defined text to the contact who sent you an email. It can be used to notify the contact in various situations.
You will go on vacation? It is unavailable at the time? You can always leave an automatic reply email ready. Regardless of the situation, you can get ahead and never leave your contact "on hand."
In this tutorial, you will learn how to create and manage a receiving e-mail auto responder in cPanel . Come on?
You want to withdraw all of cPanel? Access content What is cPanel, how it works and other sites hosting panels and understand why it is one of the most popular and affordable for you to start your journey of success on the internet.
What will you need
Before you start to follow this guide, you will need the following:
Soon after accessing your cPanel control panel, find the category – mail and access the section Respondents Automatic .

Step 2 – Creating an automatic reply e-mail receipt
Once inside the category, receiving e-mail autoresponder can be set up on the button Add automatic respondents .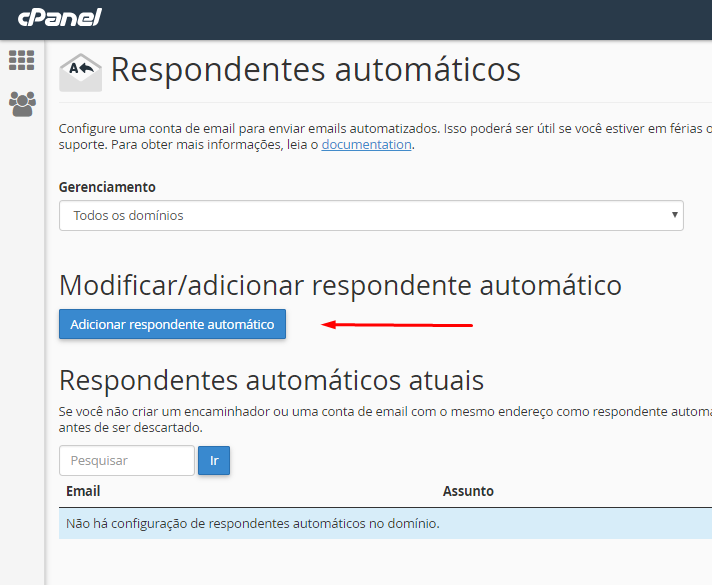 After that, a creation screen opens. You need to fill some fields. Pay attention to them, below.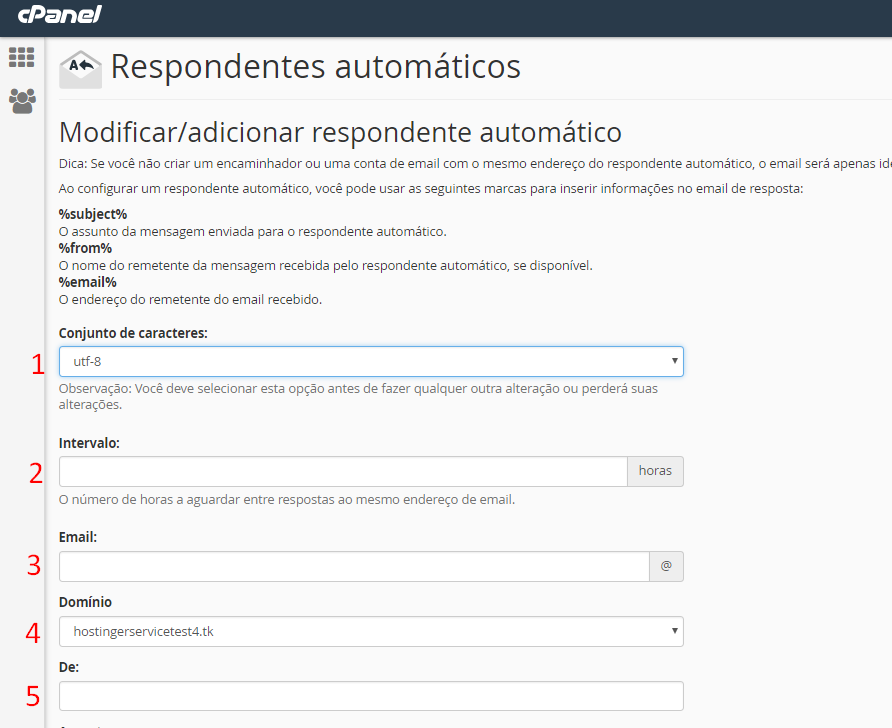 Character Set –

A defined list of characters recognized by a hardware or computer software. Unless you have specific needs, leave this field marked as

utf-8

. Most internet users find the character set

utf-8

.

Interval –

Specifies how long the receiving e-mail auto – reply will be sent to the contact. If you put 0 (zero) in this field, the automatic response will be sent to each new received from the same contact email. Some hosting providers have a mail sending limit. So it is not recommended to leave this field to 0. To prevent the mail service is interrupted, it is recommend that you have a range of at least 1 hour (depending on your needs).

Email –

This field requests the name of your inbox. For example, if your email is

teste@exemplo.com

, just the word

test

must be placed there.

Domain –

This field lists the available fields. If your domain is

teste@exemplo.com

, only the terms

@ exemplo.com

should be used.

Of –

this field will the name of the person who is sending the e-mail auto responders (you in this case).

Subject –

Field you place the subject of automatic responses. CPanel also lets you use the tag

% subjetc%

, which will match the subject of the sender. For example, if the sender set the matter as

Question

and automatic response is set to

re:% subject%

, it will appear as

re: Question

. To understand the points 5 and 6, here is an automatic response example receiving e-mail

using the configuration specified in the images above

.

This message contains HTML –

Marking this field, automatic reply will be sent in

HTML

. Otherwise, it will be sent in

Plain Text

. HTML stands for

HyperText Markup Language

. It's the way Web pages and template models are emails are programmed so that text and images are displayed on the screen. The

Plain Text

is the common text without formatting style, special characters and special layout options.

Body –

Space to put the contents of the automatic response.

Start –

field that lets you choose a specific date for when the receiving e-mail auto responder is enabled. Also, you can check the option

immediately

for instant activation.

Stop –

field lets you choose the last date on which the receiving e-mail automatic reply will be sent. Also, if the option

Never

is selected, sending messages is always active (unless you remove it manually).
Once everything is completed, you can click the Create / Modify ( 11 ) to confirm the settings. You will see the following message on your screen:

Congratulations! The automatic response tool receiving e-mail is now working.
Step 3 – Testing the automatic reply email receipt
Automatic replies can be easily tested by yourself. You simply send an email to each other using another email account whatsoever.
Depending on the messaging server traffic, it may be it takes a minute or two to get the mail. And if the tool is not working, your hosting company should be contacted for assistance.
Step 4 – Editing and Removing an autoresponder email receipt
An email receipt autoresponder can be changed at any time. You can do this by pressing the button Edit in the section Auto Responders in cPanel.
And if you do not want to use an autoresponder, you can remove it by pressing the Delete . Then click Delete Auto Responder to confirm the action.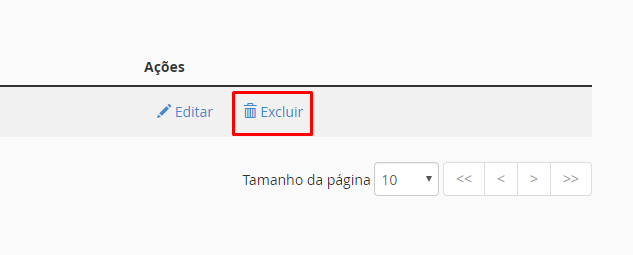 When the auto-answer option is removed, you will see on the screen a confirmation message like the image below.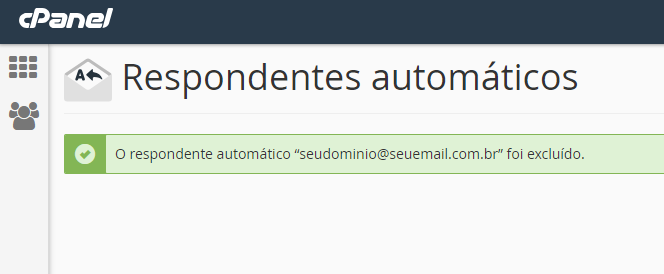 Conclusion
Creating a receiving e-mail auto responder is a great tool that you can use for various purposes. In this tutorial, you saw how easy it is to create, edit, manage, and remove a receiving e-mail auto responder in cPanel.
More information you can find on the official site of cPanel . Here's further explanation that you use to create an automatic email response. And if by chance continue with any questions, be sure to ask in the comments box below.