Before you begin, it is important to stress the importance of having a Digital Marketing Strategy clearly defined to which the study of keywords should be fit. If you need to review your strategy, this content can help: Digital Marketing Strategy: Indispensable to achieve the best results
Analyze the persona and the stage of the decision-making process in which it is:
For each page you want to optimize, you must choose a keyword to focus. This keyword must be chosen based on their study of personas . Then, for each page , and each new content, ask yourself:
1. In which phase of the decision-making process is the person to whom you will build content? Probably this information has already been explored in his study of Persona.

Problem recognition> Search information> evaluation of alternative> buying decision / sale> post purchase evaluation
2- Being that stage that the words personas seek on google that could lead them to your website or blog?
For example, if the persona target page in which you are working is in the evaluation phase of mobile shopping alternatives, it possibly will search for terms like "how to evaluate a cell", "best smartphone", "how to choose a smartphone "," smartphone reviews ".

If it is already at a more advanced stage in the buying decision process, and the stage of the buying decision, he probably already knows what he wants and will get the device model specific. And then your keyword options to achieve this person would be: buy Iphone 6s in the promotion, Iphone 64gb white 6s, 6s Iphone price, among others.

This is a very important step, often overlooked in the process of choosing keywords. Remember that all the elements, analyzes and strategies must converge towards the main goal set.
How to choose keywords using the Adwords Planner?
Many people use the Adwords Keyword Planner to generate new words based on some tips word of interest, or even leaving the planner to generate options based on the landing page. However, the results are usually not very surprising, or are not very useful, or might not even have anything to do with their area of expertise.

One way to find new keywords which is usually forgotten is enter the URL of the competitor in the Planner to get new words based on his page. When you find some interesting word, simply variations of it and find out which of the variations has the highest volume of searches and easier to be worked level of competition.
In Planner adwords keywords, you will find an average of how many monthly searches are performed for each word, as well as the level of competition of each:

Keywordtool
Still one of the most popular instruments in the time to seek new options for keywords.

It will show you a list of possible words found on the geographical location you select, many of them long tail, which can be very useful. The volume of searches for each word, however, is not available in the free version of the tool.
Simulations search on google
Our customers, when they get a word in google end up often using some of the options from the list of suggestions offered by Google. Often these words can be valuable, or even generate insights for you to discover valuable words.

To do this research, just type an important term for website optimization followed by a letter of the alphabet, so you find the most interesting options suggested for each letter. Remember the importance of doing this using an incognito window and no log into your Google account, so that the results are not personalized based on your interests.
Use your own site to make a study of keywords!

Within Google Analytics, Google Webmaster Tools and Google Adwords, you can find a lot of terms that have already brought traffic to your site.

One way to accomplish this research is: enter the analytics within Acquisition> Webmaster Tools> Queries: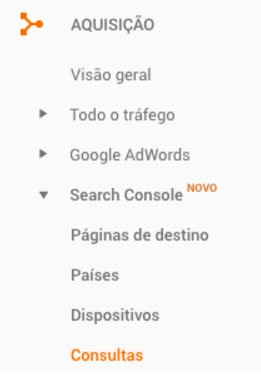 You will get a table of terms that were searched on Google and generated links impressions for your site, or even that generated clicks to your site.
Rate calmly each word and check if you already have a page that optimize. If not, consider whether it's worth building a page to address the issue around that word: the word is related to their area of ​​expertise? It is a word that has reasonable traffic? Their personas would be interested in reading about? So this word is likely to be chosen to be used in a new page on your website or blog.
These are the fastest and conventional methods to do a keyword search for those starting in digital marketing. You have valuable tips on the subject? Tell us in the comments!