There are numerous keyword tools to help you find the best keyword combinations. Below we've looked at a few free ones for you a bit closer.
Google Keyword Planner: Successor to the AdWords Keyword Tool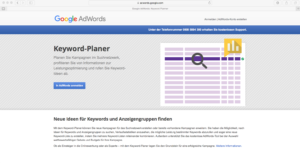 The Google Keyword Planner is actually targeted at advertisers, but it's great for finding keywords. To use the Keyword Planner, you need an Adwords account.
Overview:
Forecasts regarding search volume / competition / costs are given.
The Keyword Planner calculates search volumes across all device boundaries, including desktop computers, laptops, tablets, and cell phones.
Get help grouping keywords in ad groups.
Different market and language settings are possible.
Plus: New keyword ideas are proposed.
Google Trends: Focus on keyword development
Google Trends puts search queries in a historical context.
Overview:
The tool reflects users' interests and forecasts at a specific time interval.
It can identify keywords that may be searched for by users in the future.
No absolute values, but a proportionate "search interest" are displayed.
Highs and lows related to news / events are shown.
Comparisons of different keywords / locations / time intervals are possible.
Google Suggest: most searched terms
Google Suggest (also: Google Autocomplete) provides users with keywords or keyword combinations directly when entering the search line. The trick: If the request is sent, other relevant keywords appear at the bottom of the search results page. If the results from above and below are compared with each other, there are relevant keywords that can be set up very well.
Overview:
The suggestion search results when entering the Google search field.
The suggestions adapt in real time.
The suggestions are suitable for an initial keyword research.
Relevant influencing factors on Google Suggest: search frequency, search frequency, search behavior (web protocol) and search location.
Tip: Google Suggest can influence the SEO if, for example, the brand is negatively charged. Then it makes sense to provide positive keywords to repress the negative keywords over time from the search.
soovle: Several channels at a glance
With soovle, users can find out about relevant keywords on different platforms, including Wikipedia, YouTube and Amazon. Similar to: Suggestit.de.
Overview:
Is suitable for a first overview.
Similar keywords are suggested.
Keywords can be exported as CSV.
Daily top keywords are listed in alphabetical order.
No concrete search volume is specified.
The relevance of a keyword can be seen at a glance, depending on the platform.
Different platforms can be chosen.
Keyword-Tools.org: A little bit more than just keywords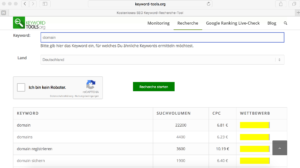 Relevant keywords, including search volume, CPC and competition, are kept track of with Keyword-Tools.org.
Overview:
Keywords or websites can be entered and weekly or daily monitoring of the development of the keyword is possible.
In addition, a search on similar keywords, including search volume and CPC, is possible.
It can also be made a Google ranking live check per keyword or website, which neutrally determines the current state.
After about 10 searches, unfortunately, must be paused, because the free query limit is limited in time.
Keywordtool.io: Ubersuggest alternative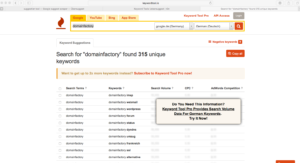 Keywordtokeywortoool.io generates several hundred keywords for each search term and is more productive than the more popular Ubersuggest.
Overview:
Technologically builds on the results of Google Suggest.
When entering a keyword, the tool suggests hundreds of long-tail keywords in alphabetical order.
The keywords can be checked by platforms.
The query is country-specific.
OpenThesaurus: related keyword research
As soon as the direct environment of the keyword has been examined, it is worth taking a closer look at adjacent topics.
Overview:
It is an open thesaurus that lives on the Wikipedia principle of user input.
Everyone can supplement a corresponding, possibly missing input.
It is a multilingual thesaurus.
The amount of synonym output varies greatly from the popularity of the keyword.
The synonyms are supplemented with results from Wiktionary and Wikipedia.
Termexplorer: Finetuning for the final analysis
Termexplorer is one of the best keyword tools. Once good seed keywords are found, the web service automatically finds alternatives and delivers them, including key keyword and link metrics. From 34 euros per month available, but also a slimmed down free account is possible.
Overview:
With the Bulk Keyword Tool, up to 1000 alternatives can be found in free mode. They are determined by search metrics such as monthly search volume, CPC (cost per click), and so on.
Keyword Analyzer analyzes, as the name implies, keywords specifically for relevance, keyword difficulty, confidence score, and so on.
Also, URLs can be analyzed by metrics such as backlinks, pagerank, domain age, etc.
It takes some time to get involved as an SEO newbie. Rather, something more advanced.