If your goal is to sell or create short-term leads, you need an Enhanced Campaigns Strategy Google Adwords.
You've moved in AdWords but it did not work?
Follow the instructions in this article and see the results!
Oh, do not forget to leave your feedback here below!
You have never used Google AdWords?
Then it's time to start, following the tips in this post.
Do you have a a marketing agency that makes Adwords for you?
Be a Freela or an agency working AdWords for you, follow these steps to see if the work is being done in a way.
How familiar with Google AdWords?
Clearly not you enter the Adwords overnight and becomes an expert.
The journey to learn how to use the tool is long and made of many hours of hands – on, a common paradigm in Digital Marketing.
Only with time and study that you can master the digital marketing tactics and make the best of the tools. And we can talk specifically Google AdWords.
It has several courses Adwords around. And some of them are officially recognized by Google, such as courses Goobec .
Many of them are paid and face, many others are free, you can see on YouTube channels, for example.
My opinion is that the amount of hours you will need to move the platform is worth more than any theoretical necessary for you to base and understand how this tool, which provides a number of resources works.
So I suggest the following free courses on youtube , which is enough to understand and make sure and then start tinkering, testing, making mistakes, learning.
… .the unless the Adwords training you do or will, is designed specifically for your account.
For more information about customized training, leave a comment below or contact us .
… but this is just my opinion …
Creating a campaign in Adwords Optimized?
In this article do not we focus on the basics of setting up a campaign, it has many tutorials out there.
Let's get into more strategic part of creating optimized campaigns , which will result in more targeted advertising for your target audience and lower cost per click.
First you need to create a campaign for each product or service category and in each campaign, need to create an ad group for each group of keywords that you want to work and that means specific products.
For example, if you sell women's and men's shoes , you need to create a campaign for men's shoes and a campaign for women's shoes .
From here you can create ad groups for sub-groups of products. For example, to red women's shoes and black women's shoes, etc.
In the ad groups, create ads that leave clear your message and containing the keywords you want to work.
Of course, you need well more things to finish your configuration, such as:
Segment your campaigns: geographic, demographic, etc.
Assess whether it is worthwhile to integrate your search network campaign with Display
You need to set your maximum bid
If you already have a base of visitors to your site, you need to test Remarketing campaigns to reach people who have somehow entered its online store.
Let the strategic tips:
1) Improve the Quality Score of your keywords to pay less in bids
When someone is in need of some product or service and looking for something on the Internet, that person probably will give Google to find what you're looking for quickly and easily.
That's because Google knows that will show the most relevant results to the need of those who seek.
To ensure this relevance, Google engine analyzes the consistency between what the user is looking for and what the advertiser wants to promote.
The same is true when it comes to sponsored links.
In the case of AdWords this consistency is measured by IQ – Quality Index.
Watch this video a bit more about what is quality score:
High IQ means better consistency between the user and the search that the advertiser offers.
Google awards campaigns with better Quality Score reduces the cost per click that the advertiser will pay.
So, the first objective of the optimization of your campaigns need to be to focus on improving the Quality Score for your keywords!
Specifically , the quality index measures the consistency between:
Search term: the word or words that the user types in the search engine
Key word: the word or words that you set in your campaigns
The announcement, if the search term is present in the ad that you want to show
The landing page or landing page: if the search term is present in the page where the user comes to click on your ad.
Ideally, for example, if the user enters women's shoes in sao paulo, you should have configured:
the keyword 's shoes in sao paulo,
an ad that has the title or text women's shoes in sao paulo
lead to a landing page that has women's shoes in sao paulo in the title or evidence in the content
Understands that well, every step of the journey itself, will always have a consistency between what the user was looking for from the beginning and what he thinks?
2) Define which types of keywords you use in in their AdWords campaigns
You can set up your keywords in several ways:
Broad Match: so Google understands that you want your ad to appear for synonyms as well. In our example, your ad will appear for terms such as: female tennis
Phrase match : Your ad appears only if the user types a phrase that contains the phrase you indicated: women's shoes in sao paulo
Exact match: the ad appears only if the user just type in the word you set.
Of course, it has much more than that in the configuration of keywords, type the negativity of words for which you do not want your ad to appear. But this goes beyond the subject of this article. However if you want a specific post on the types of keywords, leave a comment here below.
When you create an ad group in a campaign, you can estimate, with the aid of Google, what are the search terms that you will use. But it is only since the ads are in the air you will understand if these words are being used properly.
So when creating new ads, I suggest using keyword matching wide.
3) Compare search terms with keywords
After a few days left to run ads with keywords on the basis of your estimate, you can begin to assess whether the words you entered match what your audience is looking for.
To do this, log into your account Adwords and go in the ad group that you want to optimize and enter the Search terms tab, as shown below.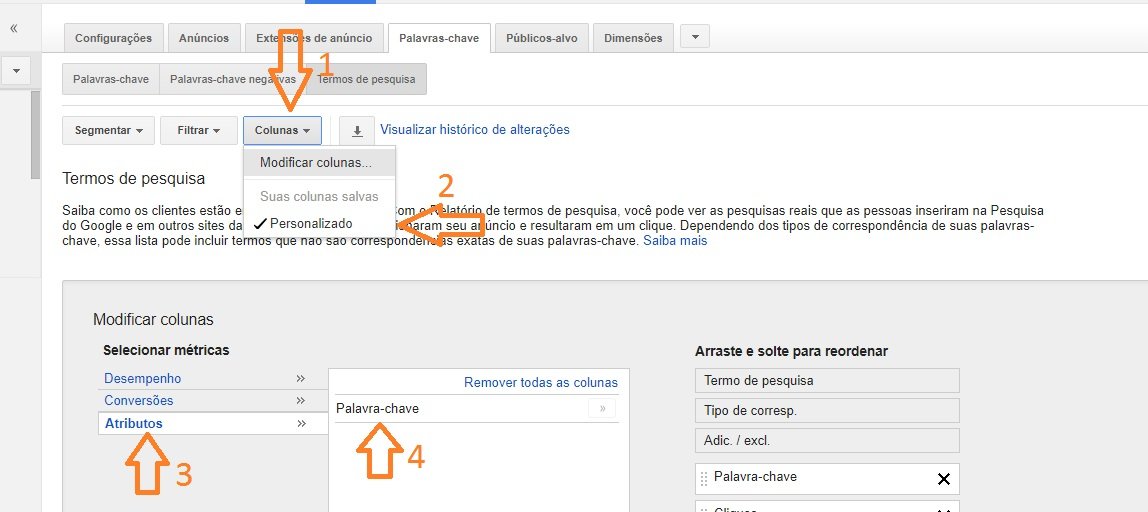 Now insert the analysis of the columns keyword driven by these search terms: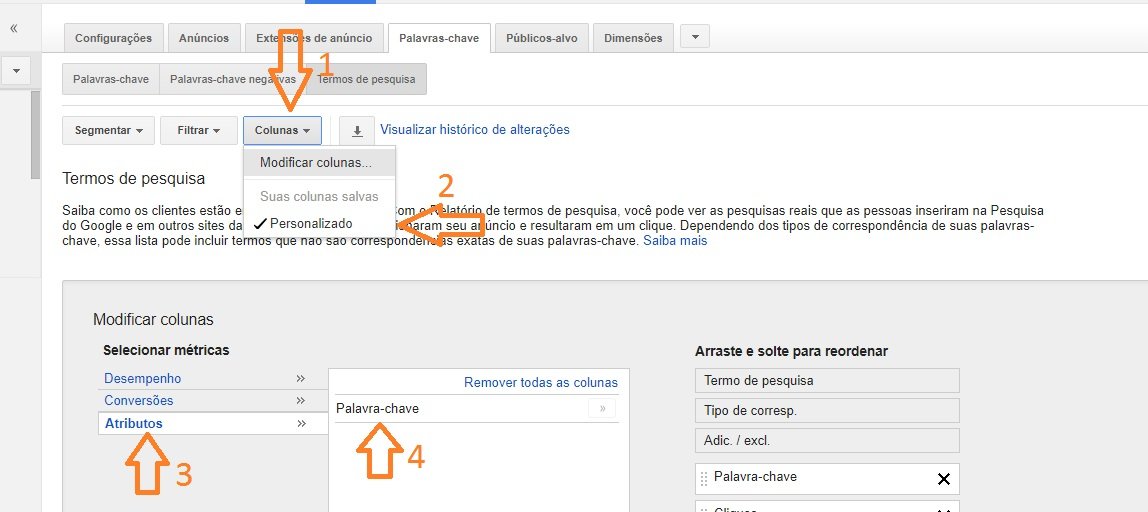 Remember that keywords are configured in terms of ad group and not campaign or ad.
4) Improve the the performance of Keywords of your Adwords ads
Now that you know which terms are used, you can start restricting keywords to the terms of interest to your target audience.
To do this, you must enter search terms as word phrase match using a "aspinhas" before and after the sentence as shown in the image below.
You can already start to see which keywords performam better and start focusing on them.
To analyze the performance of keywords, you need to evaluate:
Quality Score
CTR – click rate, measures the fact that user clicks on the ad triggered by this keyword. The higher the CTR, the better the keyword performance.
Average position of the keywords
Impression share key word
Average cost per click
Ideally, your Quality Score should be 7 up.
5) Improve the Quality Score of the ad groups.
To improve the Quality Score of ads your keyword must be in the ad title or in the text.
Once you know which words are playing better, you need to make sure you have at least one ad that contains that word key.
Do not forget to always have more than one ad running in to be able to test A / B . If you want more information about A / B testing, you can read this article .
The main performance indicators for analyzing the performance of the ads are:
CTR : shows if people are interested in what they read in the ad. If the CTR is very low, it means that the ad appears but just click on it. Which means that you are losing opportunities to bring your audience to the page of the service. In this case you need to modify your ad to make it more attractive.
Rejection rate: indicates whether people who click on the ad find what they need already on the landing page. If the bounce rate is too high, it means that the user is not finding what they were looking for, then you need to test changes in the ad or the content of the landing page.
Conclusion
Following these tips will surely improve the Quality Score of your campaigns and make them more focused on your target audience.
Repeat these steps once a week and you will see great results in the short term.
As a result you will minimize the unqualified clicks and at the same time will reduce the cost per click of qualified clicks.
If anything is unclear or you wish it were more developed, leave a comment here below.