Like any other store, a successful e-commerce operation depends on factors such as product quality, customer service, competitive pricing and efficient after-sales.
But just as there are many facilities, such as the possibility of not depend on the location to meet a wide audience or have visibility, you need to compensate with good management techniques and digital marketing .
For example, the SEO (Search Engine Optimization), or search engine optimization, has big role in making your store easier to find and, in turn, to generate traffic to it.
The vast majority of industry entrepreneurs already know the importance of planning and running continuously SEO but we still see many SEO mistakes to e-commerce that impair business results.
See some of the major mistakes and how you can ensure that your e-commerce is not make any of them!
1. Lazy loading
Pages that take too long to load will inevitably be swept aside by search engines, or at least put off the main positions on search pages.
The reason is simple: the user experience is one of the most important criteria for rankeamento on Google and other search sites.
With the evolution of internet connection, both fixed and mobile, in the country the user is accustomed to have quick answers when browsing online.
So expect even just one second more for the loading of a page can make all the difference and cause a person to give up the search, or try another site.
As it is not interesting to Google that users are frustrated, the trend is that slow sites are placed in lower positions in the rankings.
How to avoid this? Applying good development techniques such as compressing images, use the right tags and avoid unnecessary codes.
In addition it is essential to optimize the site for mobile devices – so important that this will be our next point.
2. Lack of optimization for mobile
Most people access the Internet through mobile devices such as phones and tablets, some of which only have such a device and not even know move on desktops and laptops.
So no use to design websites that they are beautiful on monitors 15 ", but they are a nightmare to navigate using a smartphone with a screen 5".
Who does that also suffers from lower positions in search rankings and wastes little traffic you get.
The solution is to invest in responsive design , increasingly common and easy to apply.
Through it, your site will be able to be accessed by any screen size and will be viewed favorably by the algorithms of the search engines.
3. Use the descriptions manufacturer
The manufacturer's descriptions are not made to attract the consumer or facilitate your product is found through search engines.
They tend to be generic and to other techniques, and does not contain the terms normally surveyed by consumers.
In addition, good descriptions also contribute to the user experience, as it gives him a good idea of ​​what to expect when accessing your page.
So, nothing to use generic descriptions. On the other hand, you do not use this space only with keywords. The secret is to have balance and to describe the item significantly to the customer.
4. Ignore the user-generated content
User-generated content is a powerful SEO feature because search engines understand that there are many people interacting with your page it should be reliable and relevant.
It is still common to see many online stores that do not put that content in the center of their strategies, specifically through reviews of those who have already bought.
The vast majority of online consumers search for other client references before making a purchase, both with respect to the product as related to the store that sells it.
Therefore, encourage the reviews and testimonials from their current customers as a way to strengthen your SEO strategy.
5. Duplicate Content
Duplicate content is a major problem, besides creating unnecessary competition between pages of the same site for a position on Google, can cause penalties.
This happens when you can access the contents of a page via different URLs. At such times, Google does not know which of URLs is the "original", which deserves the credit for the content.
The solution is to add what we call Canonical Tag in the main URL. This tag states that the page in question is the one that should be indexed, and avoids all the problems we have cited.
6. generic titles on the product pages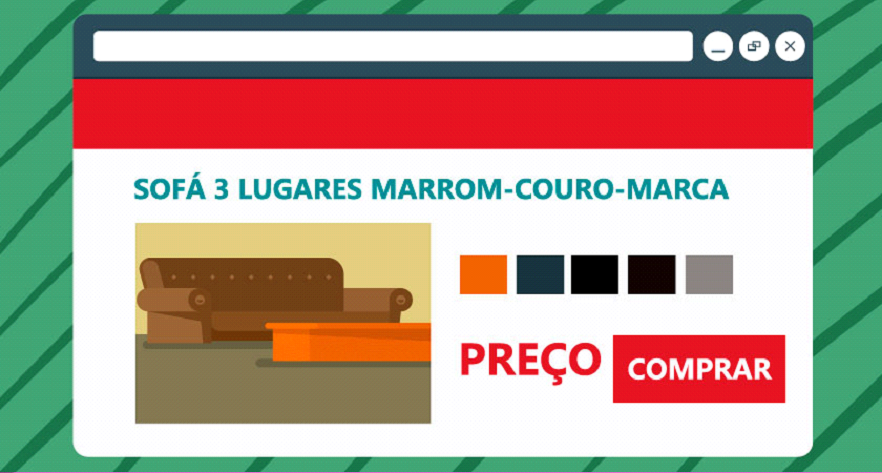 product pages need a perfect optimization to be found so easy just by people who have purchase intent.
One of the most important elements of SEO On Page is the title of a page. It is as if the initial promise, declaring what the page says.
So instead of using generic titles (or even funny) to your product pages, search customize them according to the item you are offering.
How difficult not to repeat keywords if your e-commerce sells many similar products or of the same brands, create unique phrases.
The ideal is to create a structure that varies depending on your niche and variety of products. For example, the format "Item model + brand" may work well for clothes, shoes and other products.
7. Do not use alt text on images
Images are not interpreted accurately by the algorithms of search sites, that is, you need to describe them so that they understand what it is about each figure.
Since image quality are elements that enhance the user experience, it is of interest to rankear search engines pages containing these features.
But many shops lose the opportunity to get qualified traffic by not optimizing images. The output is to use the tag Alt Text , which explains in text what the image represents.
Another advantage of optimizing the images is to receive traffic that comes from the direct search for images that has existed for some time in the major search engines.
8. URLs impossible to understand
Again, comes into play the issue of user experience. What URL do you find most friendly to a potential buyer:
www.sualoja.com.br/produtos/produto-x

www.sualoja.com.br/prod/item-w-832826472x=?
The first is easy to remember, describes exactly what the page offers, and can even be saved by the visitor to access it later by typing directly in the browser.
The second is quite confusing and impossible to memorize, or states with a minimum clearly what the page goal.
It may seem an insignificant detail, but the truth is that every detail matters at the time of engine decide which pages show first. Why is this so important to follow good SEO practices while riding your URL structure .
9. Misuse of chosen keywords
Keywords are the essence of an SEO job well done, which produces satisfactory results. Therefore, one of the main (and worst) SEO Mistakes to e-commerce is the misuse of the chosen keywords.
No use thinking that the secret of success is to repeat the keywords as often as possible in its content, as this may bear fruit to backfire and hurt your rankeamento.
The first word of caution here is with respect to moderation. Be consistent and prioritize the relevance of the content in place of repetitions.
Moreover, remember that there are many other places where it is important to place keywords, not only in content. Page titles, URLs and meta description are some of them.
10. Use the same SEO strategy around the funnel
The last of SEO errors for e-commerce that we will consider is to think that to optimize a virtual store just follow the same steps throughout the sales funnel .
The sales funnel works as follows:
top

: initial interest, perhaps with a general search on a type of product;

means

: consideration of the best product according to the interests and persona needs;

Background

: Decision by the store that offers the best conditions the desired product.
As someone at the top of the funnel can be directed to a post of your blog indicating products that might be of interest, someone from the hopper bottom already want to buy now, and can go straight to a promotional page.
This should be done with different keywords, using a mix of content to product pages, not in order to send all visitors to the same pages.
Now you've seen some of the biggest SEO mistakes to e-commerce and how to avoid them, you are prepared to face the competitive virtual environment and increase sales of your store. With the digital transformation , the competition between online stores are, every day, more fierce.
Do not forget that the well-made SEO is one that continuously follows and is based on past performance to improve.
This article was produced by Rock Content, specializing in content marketing techniques as a strategy to
leverage the results of any business.