This is certainly not the only post on Digital Marketing Trends for 2018 in Brazil , but wanted to write this article to try to give a more critical eye, not objective, but analytical on new trends.
Much time an article about trend is written in the copy base, glue and translates Americans Blogs. But not always what is there goes for the Brazilian market, at least not then. And not always trends and needs for large companies are the same for small businesses.
Stay with feet on the ground.
First we see with a print of Jumpshot , as has been changing the use of platforms for sharing content.
1. Streaming in Facebook, Instagram, YouTube
Videos already bombaram in 2017.
This happened for sure by the ever easier to produce and edit clips (with an iPhone or Samsung you can record 4K, ie a quality four times higher than High Definition – HD). But it was also because now almost all social networks allow video publishing rapid and targeted way.
Specifically for this year 2018 we anticipate increasing videos Streaming – the live videos.
Not to mention that Facebook, YouTube and even Amazon (among others) are starting to have the own series, TV type. Netflix: is the tip!
In addition to the knowledge, we will replicate some numbers on the use of Social Networks in the year 2017:
Hardly these trends will change in 2018, because in fact they are all focusing on Video for this year.
---
See also: Does the difference between personal blog and blog is so obvious?
---
2. Influence Marketing – Macro and Micro
Already 2017 was the year in which the Influence of Marketing lived the starring role.
However this was more for larger companies approach because, despite an influencer can be a great channel Branding, not always the access channel to it is so simple and sometimes can cost much more than other campaigns, type Sponsored links .
Analyzing who contacted us to work Influence Marketing, the most classic of the problems appears: the need to have a short-term result. This goes against the concept of branding, which is what we work on Marketing Influence.
Also of note a recurring error in defining a strategy Marketing Influence. Often the level of influence is measured by the amount of the person's followers. This is wrong, especially now that we can mechanically scaling the number of followers through paid tools.
This do all Influence Marketing caused a collapse of some segments, as some companies are beginning to understand that the amount of followers is not necessarily influence index. And this does not guarantee increased sales.
See video the meaning of Market Influencer:
To recognize a real influencer, you need to see how it influences the decisions of others. To measure this need to evaluate the type of comments your posts receive. If, for example, he is grateful in Social Networks by a purchase made that was indicated by him, that's index of influence. If you have just 1,000 likes in the post, so not so much.
I believe that 2018 is the year of marketing and worked influence .
To work well this strategy, aware of the difficulties of achieving global influence, we have created a split in the methodology:
2nd Microinfluência vs Macroinfluência
Macroinfluencers are those with large communities influenced and are clearly smaller amount compared with the Microinfluencers , those with small communities influenced.
So instead of trying to establish expensive and difficult to communication channels with few Macroinfluencers , we like the idea of creating more easy communication channels with many Microinfluencers .
To learn more about Microinfluência Marketing, watch this mini video:
---
See also: 11 ways to get followers to Fan Page
---
3. Chatbot
Another tool that rocked in 2017 was the Chatbox . It is full around posts Blog and Vlog speaking as optimize methodologies Inbound .
Chatbox is that automatic chat the company's website where you ask and receive automatic replies … like when you call live … lol
Looking like user, I, in addition to increasing technical improvements honestly never seen a Chatbox with a sufficient level of efficiency to be able to solve problems scalable manner.
To understand more, let us place ourselves in the customer's shoes and not the seller.
Imagine have a request to make.
We divide your request in three possible categories:
General information about a product or service;
advanced information (example of how to do something specific);
Specific information (specific to your circumstances);
In case 1 – general information, you already have a lot of blogs and FAQ on the site that can help;
In case 2 – Advanced Information , Blog and Videos youtube will account;
In case 3 – specific information, you want to speak directly to someone to do a specific question and indeed the chatbox hinders and makes the communication process more slowly.
Think about it, think about what already happens, for some time, with the phone. When you call your phone plan and is on standby enter here and enter there.
How many of these types of links actually provide a pleasant experience for the customer?
In my experience, no, but you just get used to it and know you have to go through it to get your information.
Result?
You can even improve the economies of the company that sells, but surely worsening customer service. I do not like this.
The risk with the Chatbox is reaching the same situation as in telephony, where from fashion, to establish a purely geared standard working quantity and not quality.
In 2018 it will further pumping, but it will make sense only if you have muuuitos contacts to deal with, because you will no doubt negatively impact the quality of care.
---
See also: What is the importance of social networks for your business?
---
4. Artificial Intelligence, Machine Learning, Virtual Reality and Augmented Reality
I decided to put these three words together because they are three sides of the same coin …. As? The currency has only two sides? Well here almost speak of SciFi, then we can imagine the coin with 3 sides … rs
What joins these three concepts is, once again, the fashion. Of course much like the technological improvements aportadas year after year (I have a degree in Automation Engineering), especially Silicon Valley. However, before implementing these concepts in your company, in a practical, scalable way, I think you will spend some time … or not?
4. The artificial intelligence
It is the ability of the machine to do things human . Think about it, this happens since the Industrial Revolution in the 18th century course, now the technology increases much more quickly and the machine always comes more to do human tasks increasing the level of autonomy.
A relevant example is the story (myth or really do not know, depends on the source) what happened to Facebook in 2017 when the algorithms started talking to them with a totally artificial and language unknown to man.
See these articles to have your opinion:
AI made by Facebook creates its own language and no one can understand
https://g1.globo.com/e-ou-nao-e/noticia/facebook-desligou-robo-que-abandonou-ingles-e-criou-linguagem-propria-nao-e-verdade.ghtml
Surely 2018 will be the year of artificial intelligence. Just be careful, once again you are entering a world in development, embryonic.
Feel the pain before taking the medicine.
For what exactly you will need a artificial intelligence project? It fits with the size and the expectation of your company? What will solve exactly?
4-b Machine Learning
Another matter much in fashion, it is also a very old concept dress trend word. It is simply the ability to implement a cycle of back and forth between what you do and the feedback you receive.
Pretty much the story of every human being … rs
From the technological point of view each algorithm has a loop . In each algorithm you implement an action and receives feedback and corrects the next action. The concept of Machine Learning is this one. Google 's algorithms, LinkedIn, Facebook will be improving more and more with this automatic approach. That's why, for example, you need a project Structured Data for your site. So you tell Google what product or article within your site and helps you recognize the following publications with the same page structure.
The methodology Lean Startup is based on this concept as well. You throw some basic functions of your prototype ( MVP – Minimum Viable Product ) and then enhances the system depending on the feedback received from the outside world. I like to think that the concept of Machine Learning goes hand in hand with another concept that has established itself in recent future: specialization in specific segments, niche segments .
4.c Augmented Reality
It is the ability to view a virtual reality beyond your computer screen. It is a trend of no return, for sure. However, again, how much will fit in your company?
Again beware of the bubbles, the fashions that explode and implode shortly after.
An example?
Remember Pokemon Go? It was a pioneer of virtual reality literally caught everyone. And now? Where's that cute little monster? Still lost in Ibirabuera park?
5. New look AdWords
AdWords has experienced a new look for the platform. In 2017 stood as an option, you could choose between the new look or the old (traditional). In 2018 the new look is required.
Also AdWords is constantly improving over the possibility of dynamic ads where the title of your AdWords ad will be displayed depending on the intersection between the word searched by the user and the content on the landing page of your ad.
Another interesting trend is the ability to create in the Google Display (part of the Google AdWords tool) Banners, not more general and institutional, but with a specific proposal for service or promotion. Again what wins is the specifics.
For example: instead of publishing a banner talking about your company, focus on specific promotion you will offer. This means change frequently these banners and this is allowed only by the ever easier to make graphical changes in a short time and with few resources.
6. user behavior and UX
The ever increasing need for nichar the company itself also increases the need for an ever closer attention to the end customer.
It is always important and … cheap … retain a customer than find a new one.
This means that between 2018 trends include improving the user experience on your site and in general with your company.
The direct consequence is the need for an ever more transparent relationship and understanding of user behavior and needs.
Unfortunately it is well said for a long time but not yet the case as promised … It seems that political promise, you know? See the main sites and Brazilian portals, from any thread: very few can boast of having a site that important user experience. Even Facebook is indeed unfriendly to administration pages and campaigns. Clearly, how the revenue is guaranteed, attention to user ranks second. Imagine purely national headquarters portals.
It should be noted that few genuinely take into account really beyond words, the user experience on the site: they are the classic Google and Free Market. If you have other suggestions of sites that provide great experience, please leave a comment here below.
However, you having a billing that still depends on the user experience on the site, you need to follow a process to get to this setting. You always need to define your ideal client and his perfect day to buy your product or service.
To do this Google Analytics gives you a great help.
In Google Analytics you can set the ideal journey to conversion and analyze, along the way, what stage has the highest output rate. So can analytically, measure and solve the purchase path bottlenecks.
Pop up 6.a
Finally the pop-ups will start to be penalized for real.
I've never been much pop-up fan, for indeed go against the concept of user experience on the site. The fact is that they generate results rather good … if the result is generating leads, regardless of their qualifications.
Google published this release, last year and believe it has greater effect in 2018.
https://webmasters.googleblog.com/2016/08/helping-users-easily-access-content-on.html
Increasingly paid ads are blocked by the users. That's because many of them appear without even an apparent criterion, specifically on your mobile.
How it is difficult sometimes to read a information within the cell, simply by pollution generated by these ads and aggressive pop-ups!
Technology Ad-blocking technology is still feeble in Brazil, but I believe the year 2018 will start getting longer present.
---
See also: Use the images in favor of your Digital Marketing
---
7. Digital Marketing for micro-enterprises, a considerable increase
It is always easier to spread the own brand and own products on the internet.
This means that more and more micro enterprises will invest in Internet Marketing. For those who work this audience is a great opportunity.
However it also increases competition.
Here the need to emphasize and promote their own differences in a concrete and measurable way, not to be one more.
For it becomes ever more important the need to optimize for geolocation.
What good is trying to compete with a company of its same size offering similar services, which is 300 km away, where the customer opportunities in your neighborhood are increasing?
Best first saturate the region itself.
8. Search by voice
Since the year 2017 we hear of voice search.
Consumers can use the voice search anywhere now: phones, laptops, tablets and computers. Seriously, it is everywhere. And by 2020, 50% of all searches are likely to be made by searching by voice.
In fact since the year 2017 was to be the year of this technology.
We can not say that he settled 100% in Brazil, but we already see the Uber drivers always more using it. In fact it is making life easier. I believe it is simply an inevitable and the times we need a cultural change process, finally the voice search will be protagonist of our daily lives.
2018 is the year of it.
What does that mean? You need to start optimizing your site and its content beyond what voice to text searches.
Optimize voice search tends to include long-tail keywords and conversational phrases ( "best Japanese restaurant in Sao Paulo" instead of "Japanese restaurant in Sao Paulo") that people would be more likely to say aloud.
The Content Marketing makes the optimization of voice search a little easier because it is not so difficult to work these keywords conversational in a blog post.
9. omnichannel: where to expand their digital marketing actions?
We know that if you make a digital marketing completinho you are already present in all channels and most famous social networks: AdWords, Facebook, Twitter, Instagram, Pinterest, StumbleUpon, LinkedIn and even some programmatic media.
But is that all? There are new possibilities?
Analyze carefully and creatively their personas and question:
Other applications they may be using? For example, if your persona is intellectual, it is possible that it has in its news applications mobile and reading …
You can be present within these applications? In what way?
Explore the application in specific and imagine creative ways to expose your brand in it.
You can interact within those apps? Make comments? Post in any way? Announce these apps through AdWords?
Omnichannel also includes the ever greater need to integrate the online world with the offline world. For example if you have a physical and online store, you can sell online and have them remove the store or in the tank, so the customer does not pay shipping and probably come to buy up other products.
It has other examples of synergy between online and offline. This approach is called O2O (online to offline). But the most important is to consider the integration between the two.
---
See also: Website Creation in WordPress – the methodology NoTopo.com
---
10. Optimization for Mobile is more important than to Desktop
In 2016 the IBGE announced that the use of mobile phones to access the internet has surpassed the use of the personal computer in Brazil!
Google also stressed that from the 2018 navigation on mobile will be even more important than on the desktop.
In fact talking about the increasing use of mobile is no longer news. However it is interesting to see the way smartphones are leading in the use of devices.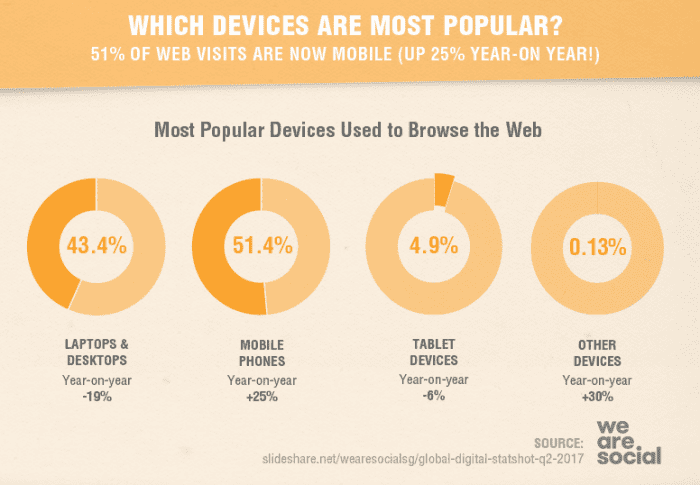 Mobile First! Stop letting the mobile side. For too long he should come first.
Long has been repeating that it is important that the website is responsive to mobile devices, or there is a special version for mobile. Today, in first-spoken create a site optimized for smartphones, and only then adapt it to the desktop, ie the mobile phone comes before everything: mobile first!
Moreover, it is necessary that the site is lightweight, fast and requiring fewer clicks to the visitor gets to where need.
Conclusion
Various tools and Digital Marketing approaches are among the trends 2018.
However what is more important is the concept behind, namely the need to be ever more specific the value proposition.
The ever greater simplicity to disclose on the Internet reduces the cost of direct advertising, but exponentially increases competition.
So to stand in front there remains to differentiate, to show the specificity of its own powers.
Is that you? You have an opinion? What is your forecast for 2018? Think jumped some important issue or want an opinion?
Leave a comment down here.
---
See also: Learning Structured Data! How to be more relevant in the polls!
---